8 things to bring and not to bring to a concert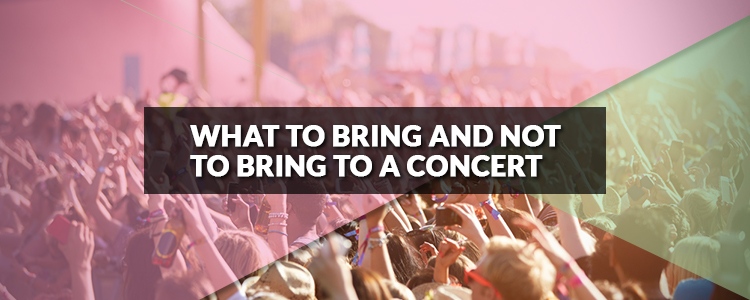 Attending a concert is always fun and who doesn't want to watch their favorite artists and bands play music live. Everyone likes to experience the performances of the stars they adore at least once in person and if you are planning to do that, then here is a list of things that you should and should not bring to a concert. So, without further ado, let's discuss those.
8 Things To Bring:
You have grabbed your ticket and are all set to enjoy the concert but there are certain things you need to consider before leaving your home! It doesn't matter if you are going to attend the show in a small venue, outdoors or indoors, you have to bring the following things to ensure that you have a great time at the concert.
1. Cash
This is very important. Why? Suppose you are going to a concert which lasts for about four hours. It will be difficult for anyone to spend that much time without consuming any food or drink. Plus, there will also be some souvenirs for sale at the event that you might consider buying especially if you are a big fan of the artist or the band.
2. Wear Sneakers
Concerts normally last for more than two hours so, to stand for that long without wearing comfortable shoes can make you feel, well, uncomfortable. That is why it is always a good idea to wear sneakers if you want to enjoy the concert without having to hop around.
3. Binoculars
Another thing that you should bring to a concert are Binoculars. If you do not have the best seats in the house to watch your favorite act perform live then you can always use them to enhance your concert-viewing experience.
4. Bring a Sweatshirt during winters
If you are going to an outdoor concert during the winters then it is recommended that you take a sweatshirt with you. It can come in handy when the temperature drops and it gets chilly.
5. Sharpie
You should have a sharpie or a pen on you whenever you go to a concert. If you manage to meet the artist or one of the members of the band, you can use that to get their autograph.
6. Bring something to sign
Your sharpie or pen would be of no use if you don't bring anything to get the autographs on. Instead of getting an autograph on your body or your favorite shirt, it is better if you get the signature of the artist or the band on their merchandise like, a hat, poster or a T-Shirt. They can easily be bought from the vendors at the concert.
7. Bring a Bagpack
There are vendors at almost every concert and you might be tempted to buy different merchandise from them. So, it is always a smart decision to bring a backpack because you can put the things you have bought in the bag instead of just carrying them around all the time.
8. Bring a digital camera
Even if you own a smartphone, it is better to bring a digital camera to a concert. This will help you take pictures and save memories that you will cherish in the future. You can't solely rely on smartphones for this purpose because as good as they are, they are still no match for a digital camera when it comes to taking pictures.
8 Things To Avoid :
While there are things that you should not forget to bring to a concert, there are also some that you should avoid.
1. Don't wear a sweatshirt in the summers
Since you are going to be enjoying the concert while standing in a large group of people, it will not be a wise move to wear a sweatshirt during the summers. It will get hot because of all the people around you and it would not be the wisest move in the world to put on a sweatshirt while the temperatures increase.
2. Avoid bringing meals
You should avoid brining food that won't open easily because you might spill its contents everywhere. Plus, don't bring meals because it will be difficult for you to consume it while standing in a crowd. What you should do is carry enjoyed small snack or a chocolate or two to eat while you enjoy the concert.
3. Don't wear excessive jewelry
One more thing that you should avoid wearing to concerts is excessive jewelry like necklaces or hoop earrings. They can get ripped out easily and can get caught in someone else's clothing. You would not want that to happen.
4. Say no to flip flops and heels
Your top priority while attending a concert should be to feel comfortable. So, it is best to avoid wearing flip flops and heels as they will make standing and dancing for you really really uncomfortable.
5. Avoid bringing an expensive bag
You should always avoid bringing an expensive bag to a concert because it can get damaged very easily. It is always better to bring a cheaper and a more practical alternative because concerts are meant to be enjoyed and you will not enjoy them much if you have to worry about your flashy bag.
6. Don't bring distraction items
No one likes to be distracted from watching their favorite stars rocking the stage. It is everyone's right to enjoy the concert so, don't bring any items like, noisemakers, laser pens, bullhorns and beach balls that might cause distraction for others.
7. Avoid bringing credit or debit cards
It is not preferred to bring your credit or debit cards to concerts because even though they might be accepted, there is a chance that you will end up spending more than you planned to. Plus, you could also lose them easily in the midst of all the rush and dancing.
8. Never wear your favorite clothes to a concert
Wearing your favorite clothes to a concert is the last thing that you would want to do because people will be throwing stuff all over the place and you may end up spoiling your dress. Nobody likes that, regardless of how much fun they are having at the concert.
So, here are the 8 things to bring and not to bring at a concert. If you are planning to attend a show anytime in the future then we are hoping these tips will come in handy. So, rock on and enjoy watching your favorite artists live in concert.