8 Rewarding Reasons to Bring Your Kid to a Live Event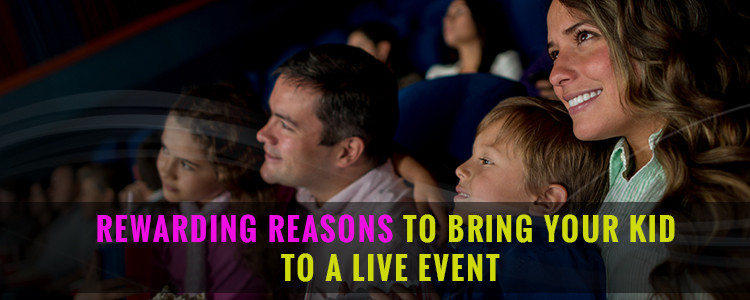 If you've been a parent who thinks children lack the patience to sit through a live theatrical event, think again. Your kids might just enjoy the live theatre experience as much as you do, if not more. And no, it's not early for them to be part of the experience. Don't believe it? Well here are some of the reasons why we think you should take your kids to theatre shows.
They will learn to appreciate theatre early
It's all about making your children getting used to things. If they are exposed to something productive early in their lives, they will enjoy it more as they get older. When the time comes they will be able to sit through a Broadway show without complaining. Above all, they will learn to appreciate the performing arts at an early stage in their lives.
It's much more fun for parents too
Let's admit it. The child in us comes alive when we're with our children. As exciting as it is for children to listen to their favorite songs and jingles live or catch their favorite characters in person, the parents enjoy the experience as much. As parents we consume so much of what our children watch and enjoy that we end up becoming fans of these characters and stories ourselves. And trust us there is no shame in it. Not only do you deserve to have a good time but it's also fun for your children.
Audience Participation
The fun of watching your kids come alive with excitement when watching their favorite characters is unlike any other. The kids thoroughly enjoy participating in a live event. And watching them dancing and singing alongside their most loved characters is a joy indeed. Also you don't have to worry about them disturbing other attendees as nobody would mind them jumping with joy and screaming out loud (of course not too loud). That's a big advantage of watching theatrical productions that cater to the children. Audience participation is encouraged and enjoyed by both the performers and the attendees.
The Meet and Greet Moments
Apart from the live performance, children look forward to having a personal experience with their favorite characters. They have watched them on screen so many times and fantasized about meeting them in real life. You can make this wish of theirs come true in the post-show meet and greet part. They can capture these special moments with their favorite characters in pictures which they will surely cherish for a long, long time.
Quality Family Time
Usually we book up our weekend with ballet classes, homework, attending birthday parties or other events of the like. All this is fun for sure. But attending a theatre show will not only be time well spent with family but would also give you something to chat about later with your children. The impact of a live theatrical experience tends to last long. You'll find yourself humming the jingles and discussing the performances in the show with other family members and friends at various gatherings.
Learning to be Patient
One of the key benefits of exposing your child to the live theatrical world is that your child gets polite training in the patience department. Children often find it hard to sit in one seat during the duration of a play. But a live event such as a theatre show makes it easier for them to do so. You can discuss the show with your children afterwards and also praise them for acting like a mature and well-behaved audience member. They will feel appreciated and proud and will be inspired and encouraged to act better next time round.
Confidence Boost and Inspiration
When children adore something or someone, they try to imitate whatever they do. So when they see their favorite character do creative acts and antics on stage they try to follow suit. Bringing them along to a theatre event hence stimulates their creative impulse. When they see such incredible art unfold before them, they are inspired to be creative themselves.
Increasing Awareness
Theatre is entertainment of course. But it can also contribute to the knowledge and awareness of a child in several different ways. For example, a show like Peppa Pig Live! can help to initiate various kinds of conversations with the kids. From the music to the language to how puppets work to geography, the show entails various aspects and has numerous kinds of entrainment packed into one. Not bad for a show about a pig we must say.
But you need to make sure about one thing. You should take your kid to a show that you know he or she would enjoy. If your kid wants to be a part of a Sesame Street Live show don't take the kid to another one thinking that the kid would forget about where he/she initially wanted to go. You ought to take the choice of your children seriously and not ignore it. Otherwise it just won't be worth it.
In a gist by taking your kid to the theatre you'll be sowing seeds for theatre-love very early in his life. It will expose him to some of the greatest cultural pleasures the advantages of which are multifold. A theater experience will help develop their artistic abilities, boost their intellect and make them more knowledgeable and aware academically. Besides sharing space with other theatre lovers will make them socially comfortable and confident.
So give your child the gift of theatre. But before you take your kid to a live show, prepare him/her for what to expect. Give your child a little bit of information about what live theatre is all about. Tell your kid about theatre etiquette and never take him or her to an event forcibly.
Once your child is ready dress him/her up well for the event. Make sure your child gets a good view of the performance. You'll certainly love the expressions on your children's faces when they see their favorite characters come alive on stage before them. After the event, discuss about the performances and the experience with them. You'll love hearing how they perceived different parts of the play.
So what are you waiting for. Check out the schedule for the upcoming live theatre event and make bookings for your family.