8 Of Mlb's Most Underrated Players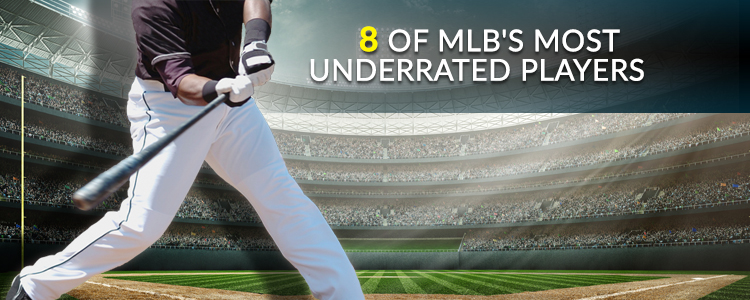 Almost every Major League Baseball player enjoys a wide personal fan base. However, recognition for an MLB player is not always proportional to said fan base. Competent players more often than not end up invisible in the ranks of the MLB given to their lack of controversy or commercialization. We feel it is imperative that these individuals are identified, known and if applicable, celebrated given to their remarkable contributions to the game. Here is our countdown to 8 of MLB's most underrated players.
8. Christian Yelich, Miami Marlins
Despite his Golden Glove win in 2014 and finishing eighth among left-fielders in WAR from 2013 to 2015, Christian Yelich has more or less remained a largely unknown entity. This may be owing to the fact that he has not been deemed a breakout star upon first entering the Major League back in 2013. With a mere twenty home-runs and forty seven bases at the time, Yelich did not provide enough incentive to be remembered. It was only after his remarkable defense became apparent, that he has earned his Gold Glove and a reason to be remembered.
The twenty-five year old possesses some extraordinary skills and some he has yet to hone. By putting more power into his homeruns, he has managed to raise his WAR to a soaring 5.3 by 2016. Stats, fans and critics unanimously convince us that Yelich could potentially be on the road to becoming baseball royalty.
7. Adam Eaton, Washington Nationals
It is strange that Adam Eaton is not as well-known as he should be. 2017, his first year with the Washington Nationals, has ended abruptly with his ruptured ACL this April, potentially taking him out of the race for an overdue All-Star selection.
Starting out with the Arizona Diamondbacks in 2012, the 28-year old got his big break after a successful 2014 season with the Chicago White Sox. In the following years, Eaton has gained the best of five WARs amongst outfielders. Where he has hit only one homerun in 2014 he has compensated for by hitting a staggering 22 home runs in the next couple of years.
While it is highly unfortunate that Adam Eaton is sitting out this year, we suspect we will see him back on the field very soon.
6. Starling Marte, Pittsburgh Pirates
Recently suspended for his usage of performance-enhancing drugs, Starling Marte's WAR has remained second-to-best from 2013 all the way through 2016. The left-fielder has two Gold Gloves to his name, and has been nothing short of a superstar in terms of performance.
While of course, there is a probable connection between the drugs and this consistency, it seems strange that despite such a commendable yet scandalous career, Starling Marte has largely gone undetected in MLB discourse. Marte is still on probation and is set to join the Pirate again in over a month. He has not yet denied the allegations or provided an explanation for it, and his return is therefore highly anticipated.
5. Lorenzo Cain, Kansas City Royals
Despite having been selected in an All-star game in 2015, his extraordinarily good performance separate from 2013 to date remains largely unknown. During this time-period, Cain's WAR remains only second to Mike Trout's. While there is considerable difference of points between the two's WAR, most players with a lower WAR than Cain gain greater recognition.
It is odd that the 31-year old still does not have a Gold Glove for his performance as an outfielder. However, given that Cain is not a center-fielder, we hope the odds will be in his favor sometime soon.
4. Brett Gardner, New York Yankees
Recognition has finally caught up with Brett Gardner since, his first ever Gold Glove win last year and participation in 2015's All-star team. However, we assert that it is a long time coming, and that this man deserves much more than one Glove.
Gardner is second only to Alex Gordon in the number defensive runs saved by a left-fielder. DRS and ultimate zone rating rank him the best defender at any position throughout 2010 and 2011. Between 2013 and 2015, he has hit an unbelievable forty-one home runs. As a result, it is contested by baseball experts that Gardner has repeatedly been robbed of his Golden Glove.
Performance-wise, Gardner is a mainstay player. It is unfortunate that he has not received his fair due, in return.
3. Jose Quintana, Chicago White Sox
His astonishing 3.76 ERA during 136.1 innings in 2012 should have been enough for Jose Quintana to gain recognition in 2012. Yet somehow, the White Sox Pitcher remains unnoticed in the public eye.
Over the past few years, Quintana has accumulated the fourth highest WAR among lefties. Popular players such as David Price and Madison Bumgarner have had lower WARs than him. The 28-year old has played an All-Star game in 2016 and remains one of MLB's best left-handers throughout. Even though his achievements have mellowed down at the start of this year, we cannot stress enough on the fact that Jose Quintana is severely underrated.
2. Andrelton Simmons, Los Angeles Angels
Simmons is not underrated in that he has gone undetected in the public eye. However, the sheer level of his skill has gone unappreciated over the years. While being a multiple Glover, it is arguable that Simmons should have four Gold Gloves instead of three.
Having proven himself a master of defense, he has been a consistent DRS lead of his league for the past two years. Simmons often goes easily amiss amongst formidable contemporaries. However, despite a recent shortstop surge by the likes of Addison Russell and Corey Seager, Simmons has held his own by being the shortstop WAR leader throughout 2012 till 2016.
1. Kyle Seager, Seattle Mariners
Arguably not the most popular Seager brother in the MLB, Kyle Seager has a track record that should not be taken lightly. Regardless of struggling with defense initially, he has remained one of the top defenders between 2014 and 2016. In 2014, he made both on the All-Star game and the list of Gold Glovers.
Despite his fluctuating performance, he has been the third-most successful third-basemen in producing the highest WAR. As a result, we feel his MVP (12th) ranking is severely downplayed. 2017 has started slow for Seager, but if his past record shows anything, we expect nothing short of a compelling performance from him.