8 Do's and Don'ts to wear A Concert Outfit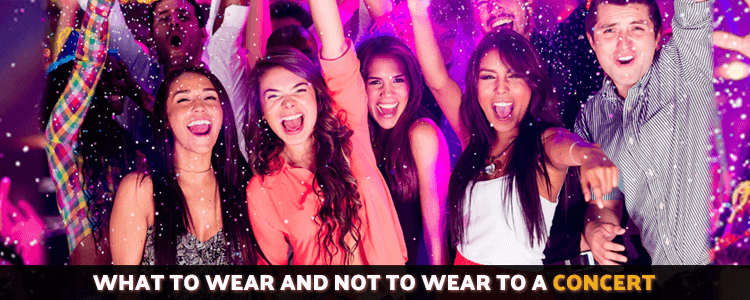 Attending a concert is a special occasion for anyone who likes music. After all, it gives fans a chance of seeing their favorite acts perform live. However, the question that leaves many scratching their heads while getting ready for the concert is what to wear. If you too have problems choosing the perfect attire for the day, read through our 8 do's and don'ts to wear a concert outfit.
8 Do's To Wear a Concert Outfit
You have got the tickets to the concert and are all set to have a memorable time with your friends. To make sure that you look great at the show, have a look at these 8 do's to wear a concert outfit.
There are times when people forget to take weather conditions into consideration before getting ready for the concert. One should always dress properly according to the season for instance, in summers, it is perfectly fine to wear tanks tops and skinny jeans but in winters, donning this attire would not be appropriate. It is better if you look up the weather predictions a day in advance before you decide what outfit to go for as it will help you dress right for the show.
Dress According to the Venue
The venue plays an integral role in selecting what to wear to a concert. If you are going to attend an outdoor concert then it is best to wear a long sleeved shirt or a light jacket over a tank-top or a T-shirt in order to save yourself from the cold before the show begins. You can later take the jacket off once the concert starts and things heat up. If the concert is indoors then you can skip the layers and keep it lightweight.
Dress According to the Latest Trend
If you want to look your best at a concert then dress yourself according to the latest trend. Search for what's in fashion and select the attire that looks good on you. There are some people who pick outfits which do not suit them so, pay special attention to what you wear in order to standout from the rest. You can also get creative with what you choose and wear accessories like a wristband or bracelets which will help you look fashionable.
Wearing comfortable clothes to a concert should be your top priority. Don't wear clothes that are too tight as it will not only limit your movements but will also make it hard for you to dance if you feel like it. If you are wearing jeans then make sure they have some stretch as it will allow you to move. Avoid wearing dresses or shirts that restrict your arm movement as it will make it hard for you to move through the crowd. It is best if you try on the attire first and see if you feel comfortable enough to wear it to a concert.
You will need to pay special attention when it comes to selecting what shoes to wear. This is because you will be standing for long hours at a concert and if you are not careful about the choice of footwear then chances are that you will hurt your feet. Sneakers, boots, pumps, wedges and kicks are some of the best options for you to wear to a concert.
If you want to wear jewelry to a concert then make sure it is not heavy as it will make you feel uncomfortable while dancing in close quarters or it may even hurt someone if you accidentally hit them. While choosing what jewelry to wear, always go for smaller pieces.
While attending a concert, make sure to leave your purse or bag at home as there are chances that you may lose them in the crowd. However, if you are concerned about carrying your I.D, phone and money then you can simply put them in a crossbody bag. This will help minimize the risk of you losing your possessions.
Bring a Pocket Handkerchief
Bringing a pocket handkerchief to a concert is important as it will help you wipe off the sweat from your forehead and brows. If you don't want to carry a handkerchief then simply wear a scarf that goes with your outfit as it too will help you get rid of the sweat.
8 Don'ts To Wear a Concert Outfit
While there are things that you should consider when getting ready for a concert, there are also some that you need to avoid.
Don't Get Carried Away While Dressing for a Concert
Sometimes people tend to get carried away while dressing for a concert. This often leads to them being overdressed for the occasion. One must remember to dress appropriately for a concert and not to overdo things which might make you the odd one out.
Avoid dressing up formally for a concert as it is highly unusual.  At a concert, you have the freedom to wear whatever you like so, try out different outfits and go with the one you feel the most comfortable in.
Avoid Wearing Expensive Clothes
While attending a concert, there are chances that whatever it is that you are wearing may get spoiled. So, it is better if you avoid wearing expensive or branded clothes and choose the outfits which are less costly.
Avoid Wearing an Excessive Amount of Layers
Don't wear excessive amount of layers when dressing for a concert as you will be surrounded by a lot of people due to which there are chances that you might feel suffocated. So, don't wear more than one or two layers and keep things simple.
Try not to get carried away while applying makeup. Simply use a layer of foundation, eyeliner and some lip gloss as it will compliment any attire. Plus, make sure that your makeup is waterproof as you don't want your foundation to melt.
If you want to look stylish at a concert then avoid wearing plaid shirts. This is because it is very common among the concertgoers and most of the people will be wearing one. It is best if you try something different if you want to stand out.
Don't Wear Flashy Accessories
When it comes to accessories then try to keep things simple. Don't wear excessively bright and shiny accessories or big metal earrings as they will look tacky.
If you have a weak eyesight then try to wear contact lenses instead of spectacles as they may fall on the floor in all the shoving and pushing in the crowd. Plus, someone may even step on them by accident, leaving you to experience the concert in a blurry vision.