7 Tips for Buying Summer Concert Tickets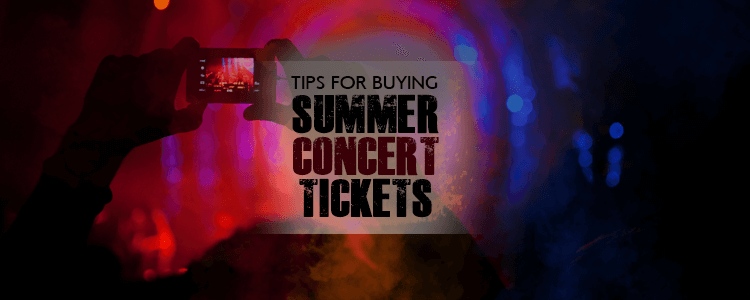 The summer months are always exciting for the music fans as it is during this time that most of the industry's biggest stars announce their tours. This year is no different as a lot of famous acts including, Taylor Swift, Bruno Mars, Foo Fighters, Stevie Wonder and Five Finger Death Punch will be hitting the road. Though, it gives great joy to see your favorite artists embark on tour, it can sometimes be disappointing when you are unable to get the concert tickets in time. So, in order to make sure that you don't miss out on any of the upcoming shows, here are 7 tips for buying summer concert tickets.
Set a Reminder
Setting a reminder is always helpful when it comes to remembering important dates. So, it will be a wise decision if you set an alarm to remind you of purchasing the tickets early. This will save you from any future hassles.
Use Multiple Tabs
Whenever an artist announces a new tour, you can expect high traffic on their website which may cause you to get stuck on the loading screen for some time.After the wait is over, the system may not accept you being next in order due to your location or the speed of your internet connection. One way to overcome this problem is to open the purchase page on multiple tabs. This may increase your chances of being selected to continue with the purchase process before all the tickets are sold out.
Start Saving Funds
It is always better if you have saved some money before an artist announces a new show in your city. As most of the tours are announced during the summers, make sure to have everything sorted financially by then as this will help you buy the concert tickets well in time before the show.
If an Artist has shows scheduled for multiple days – go for the later ones
Most of the time, the cost of the first show in a set of shows at the same venue is more than the others. In the case of Bruno Mars' four-show stint at the Staples Center in Los Angeles, the average resale price of the first show which is scheduled to take place on October 23, 2018 is higher as compared to his second gig on the following day. Similarly, Stevie Wonder's fourth concert at the MassMutual Center in Springfield is of much better value as compared to his first gig there. So, before placing an order for your tickets, do check the price of the shows in order to secure the best deal.
It's a myth that weekday shows are cheaper
Intuition might say that the weekday shows are less expensive as compared to the weekend shows as people prefer to attend the concert on the weekend. However, the data does not support this statement. From early 2014 to the end of this summer, SeatGeek showed that the average resale ticket price for weeknight gigs is equal to the average resale ticket price for weekend concerts. So, if an artist is scheduled to play just one show in your city then book your concert tickets as soon as possible.
Create Your Purchase Accounts Early
Today, every major ticket selling website requires you to sign up to make a purchase. So, it is best if you make an account on those sites early rather than doing this after an artist has announced the tour.This will help you get the concert tickets quickly and without any hassle.
Stay Connected
One of the best ways to know who is going on tour is through social media. So, set up your account on different social media sites and start following your favorite stars. It will not only allow you to stay updated with their latest happenings but will also let you know when they plan to play a show in your city. This can give you a much better chance of purchasing the concert tickets well before anyone else does.
And there you have it. A lot of exciting tours have been announced for this summer. So, if you are planning to catch one of your favorite artists perform live then these 7 tips for buying summer concert tickets would certainly be of help.