7 Things You Don"t Know About U2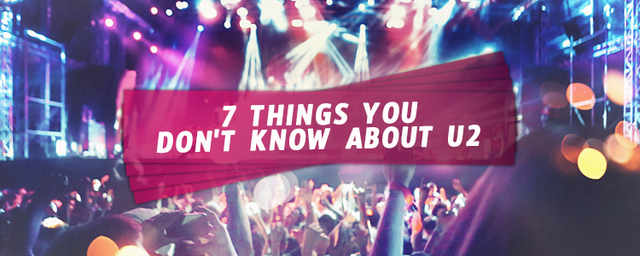 U2 has achieved a status in rock music that only a few bands enjoy. They have been around since 1976, which makes it almost four decades of being on the top. U2 has achieved all this and more with their artistic excellence that gave them consistent hits and made them one of the most successful rock bands in history. Very few bands can boast of such longevity and success that U2 has.
Another thing that sets them apart is that the band has had the most stable lineup.  Bono, The Edge, Larry Mullens Jr. and Adam Clayton have stayed together for a quarter of a century and have managed to remain in the hearts of their fans as well. Having them around for such a long time, many would assume that they know all about the legends. Well we have some interesting things on U2 that just might surprise you!
1. How the Legendary Band Came Together
Did you know how they came together? In the fall of 1976, 14 years old Larry Mullen, Jr. decided to form a band and was looking for more members. He posted an advertisement on his high school board. A five-member band known as "Feedback" responded to his advertisement and turned up at Mullen's home. Who was to know that this band would go on to create history and be one of the biggest band in music history.
2. How the Band Got their Name
The band tried different names like the Larry Mullen Band, Feedback and the Hype but ended up with U2. U2 was suggested by a family friend, a punk musician named Steve Averill. While all the members were not such a big fan of the name, they decided on it because it was the better option from the rest. According to Steve Averill, they wanted something short that would stand out and that did not have a single connotation. This was in 1978 when the band had made it to the final of a talent competition in Limerick and wanted to decide a name before going for the final showdown. As history would have it, they won the competition and U2 earned a £500 prize. In the end the name proved lucky for them and today U2 is the most well-known rock bands of all time.
3. Bono – A British Knight
Bono, born Paul Hewson was awarded an Honorary Knighthood from the Queen of England in recognition of his philanthropic efforts and work in the music industry. This was in 2007. He wasn't given the title of "Sir" as that is reserved for the citizens only but the Irish singer "was very flattered to be honored," according to the band's official website. At the ceremony, the singer joked that his youngest son, "thought I was becoming a Jedi."
It seems the singer is in the habit of receiving other country's top awards. Back in 2004, the Irish singer was awarded with France's Legion D'Honneur by President Jacques Chriac. The year 2007 proved to be a lucky one for U2. The band made it to number 22 on Forbes' Celebrity 100 list.
4. Bono's Awards
Everyone is aware of the multiple Grammys won by U2 but did you know that Bono has the sole honor for being the only one to have been nominated for prestigious awards such as Oscar, Grammy, Golden Globe, and a Nobel Prize. Yes, his name was up for the Nobel Prize as well and not once but three times.
Not only that, his name appeared twice in Time Magazine's list of 100 most influential people in the world. In 2005, he was made Person of the Year along with Bill and Melinda Gates by Times. "He was every bit the geek that we are," Gates Foundation chief Patty Stonesifer told the magazine. "He just happens to be a geek who is a fantastic musician." The Irish rock star is recognized as pop music's global ambassador loved for his music as well as his social work.
5. Growing Fortunes and Tax Scandals
It is assumed that the band's growing bank account had to do with their manager Paul McGuinness's tax related advice. The band came under scrutiny for trying to move their fortunes in overseas tax havens. Paul McGuinness denied it saying, "I don't give U2 tax advice." While talking to Sky News about it, Bono defended it, saying "Because you're good at philanthropy and because I am an activist people think you should be stupid in business and I don't run with that." They remained under criticism for trying to avoid tax and some even called Bono a hypocrite but the singer explained that he was just being "sensible" about the tax thing and there is a difference there.
6. How David Evans Got His Nickname
The lead guitarist of U2 is known by his stage name "The Edge", which according to sources was given by Bono. In an interview Bono said it had to do with the singer's habit of standing on the edge of buildings and high places. While in another interview Bono said it was also because of Evans' nose that they called him the Edge. Their book U2 supports Bono's statement mentioning that the name came about because of the angular features that Evans has. Whatever the reason, the name has stuck and today is among the most famous rock n roll nicknames.
7. The Joshua Tree Facts
Their fifth studio album "The Joshua Tree" released in 1987 was a huge success. It was named after a national park in California. Apparently a Joshua Tree is one which survives in a desert, despite the harsh circumstances and the title was used as a metaphor.  It did turn out to be a tree that not only survived but has blossomed over the years.
And now the BONUS…enjoy these extra 3 facts.
a) Turning Point for the Band
The album "The Joshua Tree" is currently the 89th best-selling album of all time. It made sales of over 20 million and can be said to be the turning point for the band in terms of their career. The singles from the album like "With or Without You," "I Still Haven't Found What I'm Looking For" and "Where The Streets Have No Name" were number one hits. Suddenly the band saw themselves sharing stage with legends like Bob Dylan, Bruce Springsteen and B.B. King and playing to packed stadiums. According to Rolling Stones this album elevated the band to the status of superheroes from heroes.
b) And The Shocker
While we would assume that they were flying high with the album's success, Adam Clayton revealed that at the time he didn't enjoy playing to huge crowds because there was a lot of pressure. Bono believed they weren't prepared for the success and went as far as to say that the tour was "one of the worst times of [their] musical life". While Mullen said, "We were the biggest, but we weren't the best."
c) The Joshua Tree Celebrates 30 Years
It's 2017 and the Joshua Tree has turned 30. Clearly the band is not uncertain or under pressure of any kind now. They are ready to celebrate its 30th anniversary and the tour in its support has already set new tickets sales record.
The anniversary tour features a North American and European leg. The rock icons are still performing as energetically as when they started back in the 70s and their fan following has not let them down. This is the reason that for their upcoming Joshua Tree Tour, 1.1 million tickets were sold in 24 hours time. The band is busy making and breaking records. That is the star power of U2.