7 Masked Musicians and Why They Hide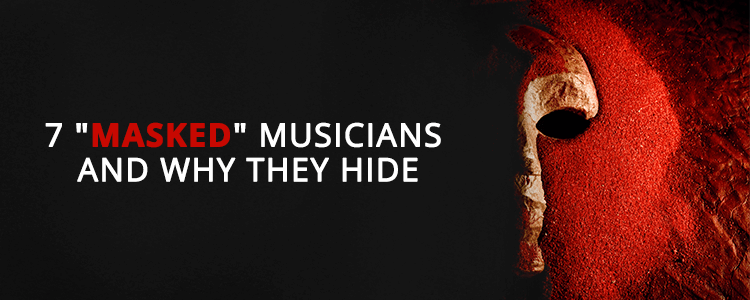 The music industry is full of individuals who express themselves in many unique ways other than their music. They are "branded" through and through, by the clothes they wear, food they eat, charitable causes they support and political parties they associate with. However, often times there are oddities that do not fit any of the proverbial bills even in this already-eccentric environment. These are individuals who are wary of, or do not want their real selves to be thrust into the spotlight.
Some of them consider their masking as an artistic statement as well, as they are trying to keep the focus on the music rather than their selves. However, in these situations, the mystery behind their created persona becomes the focus instead of their work. Others turn it into a gimmick, as a part of their 'branding' in order to gain more attention. Whatever the reason, masked musicians tend to stand out. They each have fascinating stories attached to their need to hide their true selves and go on to develop fulfilled careers. Here are 7 fascinating masked musicians and why they hide.
1. Buckethead
Real Identity: Brian Carroll
Back Story: According to the guitarist's official story, he lived in a coop on a farm and was raised by chickens. One day, the chickens scratched his face off but Buckethead stood resilient in this harrowing experience, looking at the silver lining that he got to wear a mask now. Every day was Halloween for him and the evil farm owners even threw an empty fried chicken bucket into the coop one day, which became his costume. He started playing the guitar to translate his angst and dark past into music. He travels the world and performs music to raise awareness of the terrible fate his "family" is subjected to in fast food restaurants. An MTV interviewer once asked him why he wore this 'mask' and he responded "There is no mask."
2. Sia
Real Identity: Sia Kate Isobell Furler
Back Story: This international pop superstar has sold over 25 million songs including her international debut the David Guetta produced "Titanium". However, perhaps her most distinctive feature in the half-black, half-blonde wig which covers half or all of her face. The Australian singer rarely shows her face on public platforms, choosing instead to keep her identity hidden so she can do 'normal' things like going to the supermarket or to the dentist without being hounded by paparazzi. Sia has mentioned that when she first started out in Australia, there was no distinction between her private and public life and as a result she had succumbed to drug abuse and been in the limelight. This second time around, she is more poised and ready to reclaim her personal life. The wig is an important aspect of it, for her.
3. KISS
Real Identity: A four-piece band featuring Gene Simmons, Paul Stanley, Peter Criss and Ace Frehley
Back Story: KISS is one of the most iconic rock bands since 1973. The band is known for their raucous tracks and extensive face and body makeup. All four members look identical onstage and each of the performers have their own alter-egos. There is a Starchild who is a starry lover and hopeless romantic; The Catman believes he has nine lives to live; The Demon has a dark, cynical sense of humor; and the Space Ace is a science fiction junkie. The band began experimenting with makeup after being inspired by theatrical bands such as Alice Cooper and the New York Dolls. It was an attempt to accentuate their music with a heightened version of aspects of the members' own personalities.
4. Deadmau5
Real Identity: Joel Zimmerman
Back Story: Zimmerman's professional moniker finds its humble beginnings on internet chat-rooms where he first mentioned that that he found a literal dead mouse inside his computer. He quickly began being referred to as the "dead mouse guy". He set up his profile name as 'Deadmau5' and later began producing music by the same name. Even though he is a producer of electronic music, he does not like being called a DJ. Nevertheless, he does know how to bring a house down, all the while supporting an enormous Mickey Mouse-esque plastic mask for his head. As if that isn't enough, the mask also flashes lights to the beats of his music. Well, that truly is one way to set you apart.
5. Gorillaz
Real Identity: Jamie Hewlett and Damon Albarn
Back Story: Gorillaz is a two-piece 'virtual' band which officially announces that there are four members; Noodle, 2D, Murdoc Niccalls and Russel Hobbs. According to the band's site, Niccalls is the bassist and founder of Gorillaz. He was compelled to recruit 2D on lead vocals after Murdoc injured him while attempting a robbery in 2D's computer shop. Murdoc is now completing 30,000 hours of community service as 2D's caretaker, for the committed crime. Meanwhile, Murdoc kidnapped the band's drummer, Russel from a Music Shack owned by Big Rick Black and Noodle, second lead guitarist, arrived one fine day in a FedEx parcel on the band's doorstep.
Albarn and Hewlett originally came up with the band's idea while watching MTV in the 1990s and being fascinated by animated avatars. They were also taken aback by the corporate quality of modern music and therefore decided to provide commentary on this aspect through their music. With animated art and music videos which depict all of these characters in their designated roles, Hewlett and Albarn are depicting the lack of human substance required to make a music act "sell".
6. Slipknot
Real Identity: Paul Gray, Sid Wilson, Chris Fehn, Joey Jordison, Craig Jones, Jim Root, Mick Thomson, Corey Taylor and Shawn Crahan
Back Story: This eight member hard-rock band has its members officially numbered from zero to eight. Each of the members wears grotesque, skull-like masks with macabre wigs and robe-like clothes. The idea originally came about after Crahan started bringing a skull mask to rehearsals. They began wearing matching jumpsuits as well and performed live in this outfit. It soon became an identity marker for the band and they have kept it up all the same. The band says this is an effective way to divert attention from their self and towards the music they are producing. However, it can be argued that seems to be a strange concept because people are instead focused on the eight hooded figures onstage and curious about the personalities behind them.
7. Daft Punk
Real Identity: Thomas Bangalter and Guy-Manuel de Homem-Christo
Back Story: Daft Punk is one of the most recognizable names in electronic dance music. The two-piece band has the two members dressed as robots that have a strong resemblance to the Power Rangers. However, this is purely coincidental, as Christo and Bangalter came up with this disguise due to their shyness. However, since reaching the heights of fame, the band members have mentioned that the robot costumes are also what attract newer audiences towards the act, as it arouses their curiosity. But of course, it is the great music that makes them stay.
Once you go down this path, it is remarkable to find that indeed there are many musicians who choose to mask their identity (or wear the literal face-mask), particularly while performing live. A number of bands and artists from all over the world resort to this principle for various reasons; much like the artists mentioned in our list. Whether or not it is anonymity they seek, as the great British street-artist Banksy puts it, "in the future, everyone will be anonymous for fifteen minutes". So there may be many artists on this list who need to come up with something more than a mask to remain anonymous in the future.