7 Highlights from the 2018 Grammys!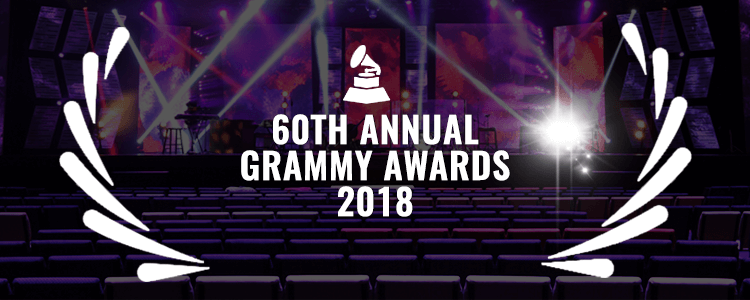 From Bruno Mars' incredible winning streak to Kesha's empowering rendition of "Praying," the 2018 Grammys were everything that you could ask for at music's biggest night. Taking place on Sunday, 28th January 2018 at the Madison Square Garden, the 60th Annual Grammy Awards were hosted by television host and comedian, James Corden.
As always, the night was made memorable by the biggest names in the industry, big wins, surprising losses, amazing performances and countless unforgettable moments. And if you were too busy counting Bruno Mars' and Kendrick Lamar's wins, or getting distracted by Cardi B's candid red carpet remarks; you might have missed some very interesting moments. But do not worry, because we have picked our 7 highlights from the 2018 Grammys!
1-The Countless White Roses
This year, a lot of stars at the Grammy Awards ceremony added a white rose to their red carpet looks, in solidarity with the #TimesUp and #MeToo movements. Artists such as Lady Gaga, Camila Cabello, Cardi B, Kelly Clarkson, Cyndi Lauper, Reba McEntire, Miley Cyrus and Rita Ora, among others were part of this silent protest. Talking about the effort, Rita Ora told Time magazine that,
"To be able to pivot attention to something that's so helpful is super clarifying for any female that does any sort of job, to feel like they're not alone."
The white rose was selected to represent the movement because it stands for peace, hope, resistance and sympathy. Some big stars chose to sound off on sexism and inequality in the industry by putting adding a white rose to their red carpet looks.
2-Losers Getting Consolation Puppies
In case you missed the cutest moment of the night, here is a quick recap for you. After Dave Chappelle won the award for the Best Comedy Album, host James Corden took to the stage to congratulate the winner and offer some consolation to the other nominees with: PUPPIES! He added,
"Congratulations Dave Chappelle, now I should say to all the nominees this evening who are not going home with a Grammy…I don't want anybody to be upset tonight. So the good news is, nobody goes home empty handed, because all night we'll be handing out consolation puppies. Okay, so if you didn't get a Grammy, you get a puppy!"
The expression on Jerry Seinfeld's face was literally what all of us were feeling at that point in time.
3-Blue Ivy telling her parents to chill!
If there is anyone who can tell Beyonce and Jay-Z to "chill," it's their 6-year old daughter, Blue Ivy Carter.
After Camila Cabello gave a brief speech about immigrants, Beyonce and Jay-Z, with Blue Ivy seated between them, applauded warmly, as one does. But Blue Ivy wasn't having any of it. She silently gave her parents a look as if to say "alright, alright, that's enough applause." The moment instantly became the talk of social media, with the short clip becoming a gif, and Twitter going crazy over how Blue Ivy is the one actually in charge.
4-Kesha's Moment
Performing alongside Camila Cabello, Andra Day, Cyndi Lauper and Julia Michaels, Kesha brought the house down with her emotional performance of her hit single "Praying." The song, in keeping with the #MeToo and #TimesUp movements, was about her struggles with Dr. Luke in the past few years. In 2014, the artist sued Dr. Luke – a renowned record producer with countless hits under his belt – alleging that he put her through sexual and emotional abuse.
The performance by Kesha was worth the wait because it was a remarkable moment as Kesha sang her heart out.
5-Camila Cabello's adorable meet up with Nick Jonas
These two could literally not get any cuter. While being interviewed by Ryan Seacrest on the red carpet, Camila Cabello ran into Nick Jonas just as she was walking off. Right at the moment, Seacrest asks, "Do you know Nick Jonas?" And Cabello exclaims while looking at Jonas, "I do know Nick Jonas!" The two stars hugged as Seacrest reminded them that they saw each other on New Year's Eve. And things got even more adorable when "Havana" singer complemented Jonas on how great he looked. People couldn't help but notice how nervous Nick Jonas got around Cabello.
And soon, the internet was flooded with images of the moment, with people speculating (or more like hoping) that these two might get together!
6-Lady Gaga and her Wings!
Taking the stage just minutes after the opening act by Kendrick Lamar, U2 and Dave Chapelle, Lady Gaga performed "Joanne" and "Million Reasons." The pop star sat at a piano that was covered with white angel wings and was supported by Mark Ronson on the guitar. Her performance had no gimmicks or dance routines, yet it was so powerful in its simplicity and rawness. Gaga is known for putting on amazing shows and sometimes her antics on the stage and her attire distract from her actual talent. At the 2018 Grammys, she gave everyone a reminder about just how amazing and beautiful her voice really is.
7-Bruno and his Six Grammys
Bruno Mars was certainly the man of the night, bagging six awards during the ceremony. The historic win in the top categories of album of the year, song of the year and record of the year, all in one sweep, and that too as an R&B artist was as unbelievable as it was incredible. To win record of the year and song of the year for two separate tracks from the same album was an even rarer feat.
To recap, Bruno Mars bagged the Grammy Award for the album of the year for 24K Magic and record of the year for the title track from the album, "That's What I Like." His total wins on the night were just two short of the record shared by Michael Jackson and Santana for eight wins. He has now become the ninth artist to win six or more Grammys in one night, joining the likes of Beyonce and Quincy Jones.
There were countless other moments at the Grammys 2018 that made waves in the news. Be it Rihanna's wild moves during her performance of "Wild Thoughts," Camila's support for the Dreamers or Janelle Monae's inspiration speech about the Times Up movement, the 60th Annual Grammy Awards were truly historic in every aspect. As it is the case every year, there were big wins and big snubs and everything in between to make the night a truly memorable affair.
It is now time to begin the countdown to the 61st Annual Grammy Awards!