The 7 Greatest Elton John Career Highlights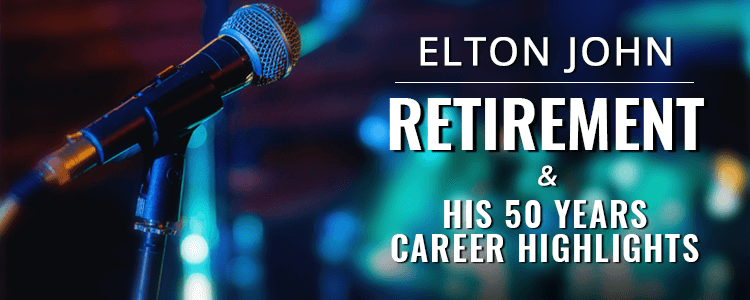 It's the end of an era now that Sir Elton John has announced his retirement from touring. The icon broke the news during a press conference in New York on January 24, 2018 by stating,
"I'm not going to be touring and traveling the world. My priorities have changed. I have young children."
Starting his journey in the late '60s, Elton John has done it all during his 50-year career. He has made it to the Rolling Stone's list of the '100 Influential Musicians of the Rock and Roll Era' and has also performed at different royal events including, the Queen's Diamond Jubilee celebrations.
He is now ready to embark on his last road trip, the 'Farewell Yellow Brick Road' tour which is scheduled to begin in 2018. So, to celebrate his legendary career, let's have a look at the 7 Greatest Elton John Career Highlights.
Releasing Seven Consecutive Number-One Albums
Releasing seven consecutive chart-topping albums is not something you hear about every day but then, Sir Elton John is not someone ordinary. He accomplished this incredible feat with six studio and one compilation record between 1972 and 1975. Among those studio efforts was, 'Goodbye Yellow Brick Road' which turned out to be the best album of his career. It was included in Rolling Stone's list of, 'The 500 Greatest Albums of All Time' and received 5/5 stars from the same publication. In addition, it made it to the Grammy Hall of Fame and was certified five and eight times platinum in Australia and the United States respectively.
Becoming the fifth Best-Selling Music Artist in the World
At the time when Elton John's debut studio record, 'Empty Sky' failed to make a mark, no one would have known that he would go on to become the fifth best-selling artist in the world. Today, he has sold more than three hundred million albums and over one hundred million singles around the globe. He was even ranked at the third spot on Billboard's list of the, 'Billboard Hot 100 Top All-Time Artists.' On top of that, he has spawned in excess of fifty Billboard Top 40 singles so far.
Composing Music for Broadway Musicals
Another thing that makes Elton John special is that he has composed music for different Broadway musicals including, 'Aida' and 'The Lion King.' The latter turned out to be a huge critical and commercial success thanks to Elton John's songs like, Can You Feel the Love Tonight, Hakuna Matata and Circle of Life. The former track's version in The Lion King movie won him an Academy Award in the category of, 'Best Original Song' and has been covered by many stars like, Sara Paxton, S Club, Jackie Evancho and Elliot Yamin. Whereas Circle of Life achieved gold level sales in the United States and reached eighteenth spot on the Billboard Hot 100.
Knighthood and Other Honors
Elton John has had a career that is nothing short of legendary so, it was only a matter of time before he was made a Knight Bachelor by the Queen of the United Kingdom Elizabeth II for his services to music and charity.
Apart from that, Elton John has also received the honor of being appointed a Commander of the Order of the British Empire. He has his own star on the Hollywood Walk of Fame and is also the recipient of the prestigious Kennedy Center Honors.
Winning Every Major Award
Elton John is one of very few artists to have won a Grammy, a Tony Award, an Academy Award and a Golden Globe Award. He has won five Grammys to date including two for, 'Best Male Pop Vocal Performance' for his songs, Can You Feel The Love Tonight and Candle in the Wind 1997. Plus, he has four Tony Award nominations to his name out of which he won one for the 'Best Original Musical Score.' He has also won one Academy Award and a Golden Globe Award for the 'Best Original Song.'
Candle in the Wind 1997
Sir Elton John has one of the greatest singles of all-time, Candle in the Wind 1997 to his credit. He wrote this song in remembrance of the late Princess of Wales, Lady Diana. It went on to top charts in the United States, the United Kingdom, France, Germany, Italy, New Zealand, Australia and France among others. The track also won him a Grammy. Moreover, it turned out to be the second highest selling single in history as it sold in excess of thirty three million copies globally. It was also certified multi-platinum by the RIAA, BPI, MC and BVMI.
Induction into the Rock and Roll Hall of Fame and the Songwriters Hall of Fame
Every artist dreams of an induction into the Rock and Roll Hall of Fame and Elton John achieved this feat in 1994. He was inducted for his remarkable contributions to the music industry by the lead singer of Guns N' Roses, Axl Rose who stated,
"For myself as well as for many others no-one has been there more for inspiration than Elton John."
Elton John was also inducted into the Songwriters Hall of Fame with his songwriting partner, Bernie Taupin with whom he has written genre defining hits like, Your Song, Tiny Dancer, Crocodile Rock and Believe.
Sir Elton John has now shared dates for his 'Farewell Yellow Brick Road Tour' which is scheduled to start in September of 2018 with a show at the PPL Center in Allentown. From there, he will go on to play multiple concerts across North America in cities like, Toronto, Montreal, Nashville, Chicago and Houston before he begins his European leg of the trek in May of 2019. It might be his last tour, but he will not stop making music altogether. This is what he had to say on the subject,
"I'm not stopping music. I will hopefully be making more records, writing more music."