7 Feats That Have Happened Only Once In MLB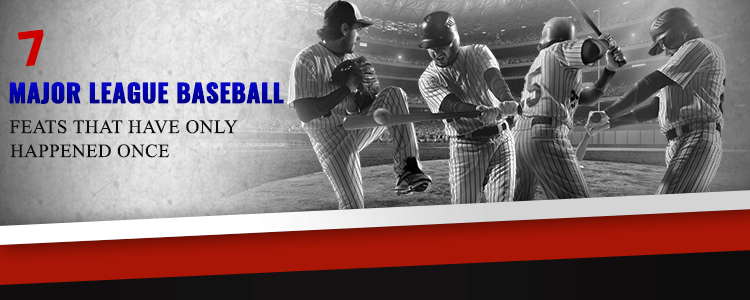 Major League Baseball has dished up plenty of memorable moments over the course of its illustrious history. There were records that at one point were considered unbreakable but eventually were. Then there were times when players have come up with plays that have stunned fans with the level of skill required to pull them off.
Yes, there still remain some feats that were one-offs when they took place and that still remains the case. Here we look at 7 feats that have happened only one in the MLB till now. Hold on because this will make for some compelling reading.
1) Caught Stealing Four Times
Robby Thompson of the San Francisco Giants was considered to be a very fast player. So on June 27, 1986 in a 12 inning game, the Giants sent Thompson on to steal a base. He was sent to the field of play on four occasions and he got caught at every single attempt. Let's just say it really wasn't his day. In all honesty, that was not his season altogether. He played one hundred and forty nine games during that campaign and ended up stealing only a dozen bases. He was caught fifteen times in the process.
2) Two Consecutive No-Hitters
Johnny Vander Meer is a Cincinnati Reds great. He has been inducted into the Cincinnati Reds Hall of Fame and won a World Series with the franchise too. He delivered quite a few stellar performances for the Reds and two of those performances came in the 1938 season. He delivered two no hitters in back to back games. Close to three hundred no-hitters have been recorded in MLB history but Vander remains the only player to achieve the feat in two successive games.
3) Hitting the Same Woman Twice
Richie Ashburn is a legend and has been inducted into the Baseball Hall of Fame. He was a six time All-Star and a two time NL Batting Champion. On August 17, 1957 however he did something that had never been done before or since then. That was the day when he hit Alice Roth, a spectator with a foul ball and broke her nose. It does not end there though. As Alice was being stretchered off, Ashburn hit her again with another foul ball and broke her knee.
4) A No-Hitter with LSD
On June 12, 1970 the Pittsburgh Pirates were to go up against the San Diego Padres. The Pirates' pitcher Dock Ellis didn't think he would be asked to pitch that day and so he decided to take a dose of LSD. But, Ellis was indeed asked to pitch and he came up with a no-hitter while being on LSD. He remains the only player to do that.
5) Two Hits, Two Different Teams, Two Different Cities, Same Day
Joel Youngblood will remember April 4, 1982 for as long as he lives. He started the day with the New York Mets and drove in two runs with a single against the Chicago Cubs at the Shea Stadium. He was however traded to the Montreal Expos the same day who were playing in Philadelphia on the same day.
Youngblood did not waste any time in flying off to Philadelphia. He not only made it to the Expos' team that day but also recorded a hit in the seventh inning at the Veteran Stadium to become the only player in MLB history to score with two different teams in two different games in two different cities on the very same day.
6) Stealing the Same Base Twice In an Inning
All the way till the year 1920, stealing bases in reverse was allowed in the MLB. So, on September 4, 1908 Herman Shaefer was playing for the Detroit Tigers. He was on second base and then went back to steal first base. He then managed to make it to second base again and became the first and only player in history to steal the same base twice in the same inning. The team at the received end of this unique feat was the Cleveland Indians.
7) Hitting Grandslams from Both Sides of the Plate
Bill Mueller was a great switch hitter. Playing for the Boston Red Sox on July 29, 2003 he did something that had never been done before. The Red Sox were playing the Texas Rangers and won the game 14-7. Mueller however was the talk of the town afterwards. He hit grandslams in the game from both sides of the plate.
It all began with Mueller hitting a solo HR in the third batting left-handed against R.A. Dickey. Then he hit a slam off Aaron Fultz while batting right-handed in the seventh inning. To complete a quite remarkable feat, Mueller then went left-handed and hit a slam off Jay Powell.
These are 7 feats that have happened only once in MLB history. If we have missed any such unique feats or happenings feel free to let us know.