7 artists who predicted their own death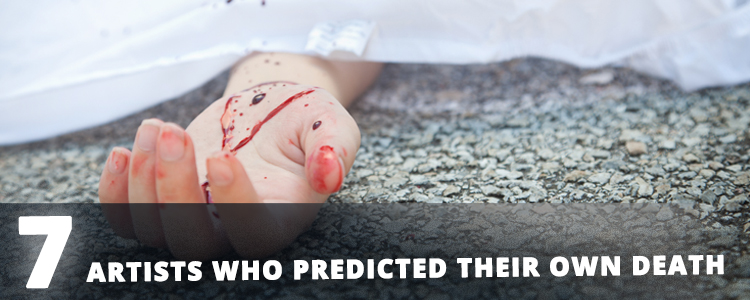 Death is inevitable and every living soul on this planet will perish sooner or later. Yes, that includes famous artists too. Death can come at any time but to see it coming before everyone else is truly terrifying.
There were some very popular names, from Tupac Shakur and Jeff Buckley to John Lennon and Kurt Cobain who predicted their own death. The eerie part is how accurate they were in guessing their own impending demise in songs and interviews.
Below is a list of 7 artists who predicted their own death.
1. Tupac Shakur
Born in 1971 in New York, Tupac Shakur was one of the most influential names in the world of hip-hop. He recorded three consecutive number one albums and has also been inducted into the Rock and Roll Hall of Fame.
Throughout his career, Tupac released many successful singles and in one of them he let the world know how his life would come to an end. He rapped, "I been shot and murdered, can tell you how it happened word for word." Moreover, the AMA winning hip-hop megastar had this to say when he was asked where he sees himself in a few years, "Best case, in a cemetery. Not in a cemetery, sprinkled in ashes smoked up by my homies. I mean, that's the worst case."
Tupac's prediction about his death came true on September 13, 1996 when he was shot and murdered in Las Vegas at a drive-by.
2. John Lennon
The co-founder of one of the most legendary bands in music history, the Beatles, John Lennon needs no introduction. He was listed as the fifth greatest singer by the Rolling Stone and contributed a lot towards the success of many albums including, 'Double Fantasy' which climbed to the top of the charts in multiple countries and went triple platinum in the United States.
The world went into a state of disbelief when Lennon passed away. His demise was a surprise to the masses but it looks as though he had seen  it coming. The Rock and Roll Hall of Fame inductee recorded a song, Borrowed Time. In the track, there was a line, "Living on borrowed time, without a thought for tomorrow."
On December 8, 1980, news broke out that John Lennon is dead. Four years later, Borrowed Time was released and it charted at the thirty second spot on the UK Singles chart.
3. Kurt Cobain
Fans will always remember the front man of Nirvana, Kurt Cobain for his music. With the band, Kurt released three studio albums out of which, 'Nevermind' was certified diamond by the RIAA and charted at the top spot on the Billboard 200.
Before he passed away, he predicted his own demise by recording a song, in 1994, months before his death. Titled, You Know You're Right, he opens the song by singing, "I will never bother you / I will never promise to / I will never follow you / I will never bother you / Never speak a word again / I will crawl away for good."
Kurt Cobain was found dead at his home on April 5, 1994. You Know You're Right was later released as a single in 2002 and it entered the Mainstream Rock chart at the first spot.
4. Jimi Hendrix
Undoubtedly, Jimi Hendrix was one of the greatest guitarists to have ever lived. He has been enshrined in the UK Music Hall of Fame and three of his studio albums, 'Are You Experienced,' 'Electric Ladyland' and 'Bold As Love' were included in Rolling Stones' list of the, '100 Greatest Albums of All Time.'
Out of all the popular songs that Hendrix recorded throughout his career, there is one particular track, The Ballad of Jimi in which he talked about his own death. Jimi sang, "Many things he would try/ For he knew soon he'd die/ Now Jimi's gone, he's not alone/ His memory still lives on/ Five years, this he said/ He's not gone, he's just dead."
Exactly five years after the release of The Ballad of Jimi, the world mourned Jimi Hendrix's death when passed away on September 18, 1970.
5. Mikey Welsh
Another artist who predicted his death was the former bassist of the Grammy winning band, Weezer, Mikey Welsh. Before joining the band, he performed music with names like, Juliana Hatfield, The Kickovers, Jocobono and Heretix. Weezer recruited him in 2000 and he appeared on the group's self-titled record which made it to Spin's list of the 'Best Albums of 2011.'
After suffering a mental breakdown, Mikey decided to quit music and started to pursue a career in arts. On September 26, 2011, he posted a tweet which had his fans worried. Welsh wrote, "Dreamt I died in Chicago next weekend (heart attack in my sleep.) Need to write my will today."
A couple of weeks later on October 6, 2011, Mikey Welsh was pronounced dead in his Chicago hotel room. It was later revealed that the cause of his death was a heart attack.
6. Proof
Proof was not only a very talented rapper but he was also a skillful actor who starred in films like, '8 Mile' and 'The Longest Yard.' During his career, he not only spawned a series of hit records with the band, D12 but also came out with two solo records. Out of those two records, 'Searching for Jerry Garcia' achieved a lot of critical success.
Proof only lived for 32 years and during that time, he came out with some very popular singles. In one of the songs, 40 Oz the Detroit native predicted his own death by rapping, "I'm in the club to beef, you gotta murder me there."
Two years after the song was released, Proof got into an altercation at the CCC Club in Detroit. That resulted in his demise as he was shot dead on April 11, 2006.
7. Jeff Buckley
Born to a famous folk rock singer, Tim Buckley in 1966, Jeff Buckley followed in the footsteps of his father and immediately became one of the most talked about artists in town. He was also mentioned in Rolling Stones' list of the, 'Greatest Singers of All Time.'
Before Jeff Buckley breathed his last breath, he released his only album, 'Grace' in 1994 which received great critical praise. The album featured ten songs on the tracklist including, Dream Brother in which he delivered some foreboding lyrics. He sang, "The dark angel is shuffling in" and later, "Asleep in the sand with the ocean washing over."
Three years after the release of the album, on May 29, 1994, Jeff decided to go for an evening swim but never returned. His body was later recovered a few days later on June 4 from the Mississippi River. It was later revealed that the cause of his death was accidental drowning.