6 Things to Expect at a Roger Waters Show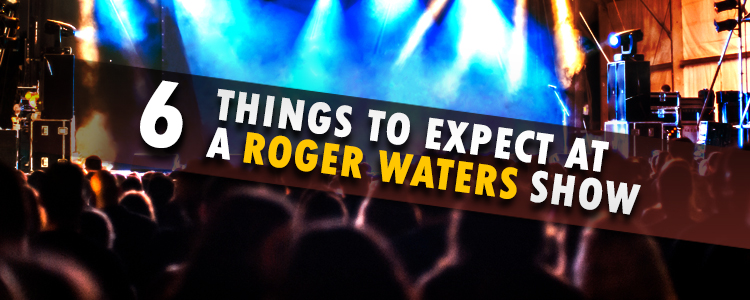 As the songwriter and creative force behind the legendary rock band Pink Floyd, Roger Waters has been an icon for over five decades now. How did this bassist elevate to become the conceptual leader of the band and eventually reach an icon status?
It happened one evening in 1968 when the band was en route to a concert in Southampton. Before reaching the venue they had one more stop to make, to pick Pink Floyd's frontman Syd Barrett – but they decided not to. For the past several months Barrett had been suffering from a mental breakdown, causing him to freeze during performances and stare in blank spaces. In the members own words, they thought "not to bother" and that decision signaled the end of Syd's run with Pink Floyd.
Roger Waters became the leader and under him Pink Floyd enjoyed incredible critical and commercial success. Creative differences led him to start his solo career and leave Pink Floyd behind. And nobody's complaining. Not Waters and definitely not the fans.
25 years after his last studio album "Amused to Death" and 12 years following the solo concept album "Ça Ira", Roger Waters has come up with "Is This the Life We Really Want?". Released on June 2, 2017, Waters has dived into deep unchartered water and has described the album as "part magic carpet ride, part political rant, part anguish."
The album is supported by "Us + Them Tour" that started May 26, 2017 and will end on October 28 in Vancouver. If you're attending, expect these 6 things to happen at his concert.
1. Political Rant
Even before the tour started, Roger Waters made it clear that he would be using the platform to highlight the issues of the day. From Donald Trump to the state of the world and the rights of the artists, nothing is a far off-topic for the legend. Waters is not an idealist either. He knows that his message of humanity might alienate some fans along the way. As it happened in his Desert Trip concert recently, Waters witnessed himself that out of approximately 80,000 people who bought tickets to his live performance, around 1,000 walked out of the show in disgust. But the political activist that he is, he knows it's a small price to pay and what he's doing is more important. As he stated in his concert, "This is what defines what kind of lives our children are going to lead."
2. Old Songs and New
Roger Waters' repertoire is full of classic rock and arena anthems. The tour will include a mix of old hits and new songs. 75 percent of the songs will be that fans recognize, mostly the ones that he wrote when he was in Pink Floyd. Of course he'll belt out tracks from the new album "Is This the Life We Really Want?" that's clever and lyrically adept. The songs "Déjà Vu", "Smell the Roses", "Picture That" and "The Last Refugee" already made the setlist and the crowd fully enjoyed the live version. All the songs are thematically connected, emphasizing the responsibility humans have towards each other. Sure, many of these songs find him in an angry, pissed off mode but they are also touching and brutally honest.
3. Pigs (Three Different Ones)
Roger Waters has already wrapped up more than ten shows on the "Us + Them Tour". And for those who attended, the floating inflatable pigs remain the highlight. Expect them at his upcoming concerts as well, as they appear during his live rendition of the hit song "Pigs (Three Different Ones)". The performance is supported through the projection of images and quotes of President Donald Trump on huge screens. In the song's theme, pigs represent people with wealth and power, and how they manipulate others. The 11-minute performance of the song carries through with the neon pop-art images of the president wearing lipstick, with the head of a pig and finally the word "charade" written on his face.
4. Classic Rock Staples
Rock n Roll Hall of Famer will revisit Pink Floyd's five best albums, bringing to the stage songs from "Meddle", "The Dark Side of the Moon", "Wish You Were Here", "Animals" and "The Wall". The soaring vocals of Waters on "One of These Days" and a hypnotic rendition of "The Great Gig in the Sky" and "Time" will keep the crowd on its feet. Along with his nine-member live band, Waters powers through the complex setlist and it's incredible how he doesn't have to change even a word of songs that were penned almost four decades ago. The two hours career-spanning performance will see the legend perform "Money", "Brain Damage", "Bring the Boys Back Home" and "Comfortably Numb" as he mercilessly takes shots at various politicians.
5. An Audio-Visual Spectacle
Sure it's a politically charged event but never expect Roger Waters to compromise on the production level – which in this case is nothing but spectacular. The artistic Director Sean Evans turned his audio-visual vision into a stunning reality presenting striking visuals of floating moon drone and prisms of pure light. A 3D speaker system allows a quadraphonic sound to be achieved that elevates the whole performance. Laser pyramid designs, stage wide LED screens and psychedelic images splayed across them upgrade the scabrous effect of the night. An old school laser show completes the night.
6. Shocked & Outraged Fans
All is not rosy for Roger Waters. His politically charged shows and the general theme of "Us + Them Tour" has put off some of his loyal followers. Some fans have walked out of his shows due to excessive Trump bashing, though they are easily outnumbered by those who sing along with the legend. If you're a Donald Trump supporter, it's best to skip the concert, stay at home and churn up the elected president's old speeches. Or you could sit stoned-face like some fans have been seen in the recent concerts, ignore the anti-Trump slogans and simply relish the powerful anthems by Waters. It's also been reported that there are protestors who pile up outside the venues, urging people to boycott Roger Waters.
Say what you may about Roger Waters's political leanings, the highest grossing solo artist of all-time has build a connection with the like-minded people that is here to stay. There's a sense of community when he's live on stage performing in front of a crowd of thousands, and that's something he wants to do for as long as he can.