6 Reasons Why You Should Attend The Lumineers 2020 North American Tour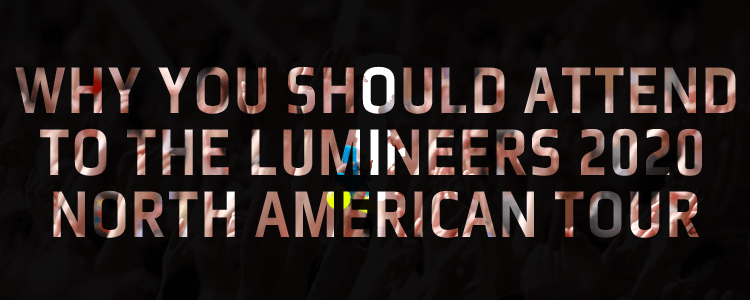 Inspired by famed artists and groups like Leonard Cohen, The Cars, Bruce Springsteen, Talking Heads, Guns N' Roses, Beethoven and Bob Dylan, The Lumineers have already cemented their place in American folk rock folklore. The group's founding members include Jeremiah Fraites (percussion, drums) and Wesley Schultz (guitar, lead vocals). They began performing and writing together in Ramsey, NJ in 2005. In 2010, vocalist and cellist, Neyla Pekarek, responded to an ad on Craigslist that was posted by Fraites and Schultz, and decided to become part of the group when she was invited. In 2018, Pekarek left the band to focus on her solo career.
The band sky rocketed to fame in 2012 and soon became popular with their mega hit wonders like 'Cleopatra,' 'Ophelia,' 'Gloria,' 'Stubborn Love,' and 'Ho Hey.' They were praised for their music and have received a string of major award nominations from 2013 to 2019. The band is known for its foot stomping, spirited and energetic live performances, so if you haven't seen them perform live, you are missing out big time.
Here are 6 reasons Why You Should Attend The Lumineers 2020 North American Tour:
1) They Have Recorded Smashing Music
Their self-titled debut album came out in 2012 and climbed to the number 2 position on the Billboard 200. It was certified triple platinum in Canada and the US, with platinum certifications in Ireland and the UK. It also went gold in Australia. The album's first single, 'Ho Hey' debuted at number 90 on the Billboard Hot 100 Charts in June 2012, and later climbed to the number 3 position on Hot 100. This track reached the number 1 spot on commercial Triple A radio, where it stayed for 8 weeks. It also reached the number 1 spot on Billboard's Adult Contemporary Songs, Adult Pop Songs, Heatseekers Songs, Alternative Digital Songs, Rock Digital Songs, Alternative Songs and Hot Rock Songs charts.
Their sophomore album, Cleopatra, came out in 2016 and peaked at the number 1 spot on the US Billboard 200 Charts, and also on the British and Canadian album charts. The first single 'Ophelia' from their sophomore album climbed to the number one spot on the Triple A Chart and stayed there for thirteen weeks. The album's second single, 'Cleopatra,' skyrocketed to the number 2 position on Triple A radio.
2) The Lumineers Are Brilliant Story Tellers
The folk rock trio manages to poetically narrate complete stories in their songs. Their music tells passionate stories about failure, fame, love, addiction, madness, grief and more. The Lumineers know how to use history to create stories that relate to modern life. Their songs are raw, soulful and emotive and the themes of their songs are very simple, yet powerful.

3) Their Touring Legacy Is Special
The band knows how to put on a great show. They are known for their energetic concerts and have previously delivered a number of triumphant and exhilarating performances. After the release of their album 'Cleopatra,' they went on The Cleopatra World Tour to promote their music. The tour was spread over 2016 and 2017 and sold more than 750,000 tickets in the US. They had 3 sold out performances at the Marymoor Amphitheater in Seattle and 2 sold out performances at the Madison Square Garden in New York City. In addition to their touring success in America, they have toured all over the world and have sold hundreds and thousands of concert tickets globally. They've had many successful shows in South Africa, Australia, Czech Republic, Poland, Italy, Spain, Switzerland, France, Germany, the UK and Canada.
The band has also toured with other artists; they have performed with the Irish group, U2, on the North American leg of their 2017 tour. They opened shows for U2 at the MetLife Stadium in East Rutherford, the Gillette Stadium in Foxborough, the Rogers Center in Toronto, the FedEx Field in Washington DC, the Lincoln Financial Field in Philadelphia, the Heinz Field in Pittsburgh, the Soldier Field in Chicago and the Rose Bowl in Pasadena. The Lumineers have also performed with Tom Petty and the Heartbreakers in Vancouver and Seattle. Touring with these musicians has given the band the exposure they needed and helped them to promote their music on a bigger platform.
4) A Strong Legacy as a Band
The Lumineers have been appreciated for their brilliant music and have received a number of prestigious nominations over the past few years. In 2013, they were nominated for the Teen Choice Award in three categories; 'Choice Rock Group,' 'Choice Rock Song' and 'Choice Music: Breakout Group.' At the 55th Grammy Awards, they were nominated for the 'Best New Artist' and the 'Best Americana Album.' They were also nominated for the Americana Music Honors & Awards for the 'Song of the Year' and 'Duo/Group of The Year' in 2013 and 2017, respectively. They have also received nominations from the Billboard Music Awards for 'Top New Artist,' 'Top Rock Album,' 'Top Rock Song' and 'Top Rock Artist.'
5) They Make Interesting and Unique Music
The Lumineers have tried to stand out from the rest, instead of blending into a homogenized folk rock scene. The band's simple and unique music has become a staple in the music world. They have an acoustic based Americana sound that touches a number of stylistic bases and genres such as heartland rock, gospel and folk. This amalgamation of different genres makes their music unique and interesting.
6) The Band Members Are Humble
The band members come across as grounded and friendly. They put their humble persona down to years of criticism and hard graft. There was a time when they weren't appreciated for their talent, because of which they had to develop a thick skin and a lot of grit. This strength of character helped them achieve the success they have found today. This is one of the reasons why the band is fiercely inspired by musicians with integrity and courage, such as Damien Rice. They relate with artists who had to wait in order to get their big break.
The Lumineers have come a long way since they first released their self-titled debut album in 2012. They have not only moved millions of records worldwide, but they have also garnered praise and acclaim from all sides. If you are a fan of indie/folk music, then make sure that you attend the band's 2020 North American Tour. The road trip will feature storming sets, energetic performances and arena shaking anthems. This will be a show you will never forget.