6 Most Popular Festivals & Concerts for Summer 2017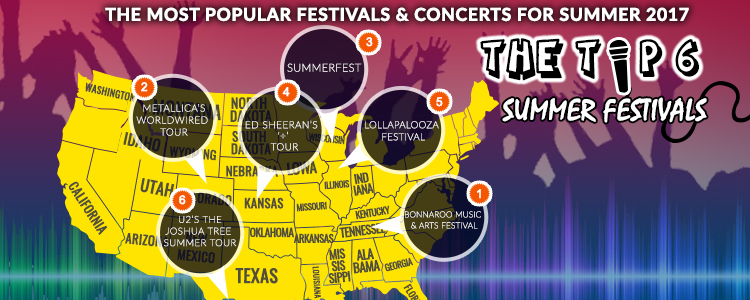 Summers means holidays, chilling out and having fun. It brings with it endless possibilities of entertainment. This is the time of the year people look forward to the most for partying hard and planning events with loved ones. Traveling is also at its peak around this time. This is the reason why some of the best concerts and festivals are scheduled in summers and why these events enjoy massive crowds. The summer of 2017 is also packed with concerts by some top stars as well as live music summer staple festivals.
Bonnaroo Music & Arts Festival
When and Where:
June 8-11
Great Stage Park
Manchester, Tennessee
Reasons to Attend
If you are looking for great music and camping adventure then this festival is definitely for you. Started in 2002, the word "Bonnaroo" actually means "Good Stuff" and with more than 130 bands performing on this four-day festival, you are sure to find loads and load here.
Bonnaroo offers four days of adventure and eclectic music. The organizers of Bonnaroo are known for inviting a world class lineup every year that makes the entire experience an amazing one. U2 is making their first appearance on the festival and already the anticipation is high for the 2017 installation.  They will be making their US festival debut on the Friday night which is the 9th of June. Red Hot Chili Peppers and Chance the Rapper will be performing on Saturday night. The Weeknd will take the stage on the last day along with the artists like Lorde, Travis Scott and Crystal Castles.
Join the hundreds of campers on the farm and enjoy the diverse lineup that brings you non-stop fun.  And don't worry about food; there will be plenty of stalls at the farm from fish tacos to beef burgers! Pack your bags and head to the festival to join your fellow Bonnaroovians at the 700-acre farm in the Midwest. It will be an experience you will definitely remember for a long time.
Metallica's WorldWired Tour
When and Where:
May 10 – August 16
North America
Reason to Attend
The wait is over for the American fans! Metallica is hitting the road on a North American summer tour. It's been quite a while since the American fans saw their favorite group in a full fledge tour of the US. And now that they are at it, how can you miss one of the biggest names in heavy metal live in concert?
Metallica will be hitting several cities in America and Canada this summer. They have announced North American dates for their WorldWired Tour and will be taking over several stadiums, festivals and arenas this year which will mark their proper full-scale US tour in over a decade.
The tour is in support of their tenth studio album, Hardwired…To Self Destruct. Like their previous albums it landed proudly on number one on the Billboard 200 and sold 800,000 copies worldwide in its first week alone. They are the only band to have achieved the feat of giving six consecutive number one hits on the Billboard 200.
On this tour you can enjoy the kings of rock and metal belt out their fresh rock anthems such as "Hardwired," "Moth Into Flame" and "Atlas, Rise".  Joining the metal behemoths on this hot summer tour are Avenged Sevenfold and Volbeat. Gojira will be performing on selected dates, probably in August. With these artists sharing the stage it is going to make the summers even hotter. In Hammett's words "it's gonna be really cool, really fun and very Metallica."
The lucky ones who attend it will also get a physical or digital copy of Hardwired … to Self-Destruct that comes with each ticket purchased.
Summerfest
When and Where:
June 28 – July 2; July 4 – 9
Henry Maier Festival Park in Milwaukee, WI
Reason to Attend
According to Guinness World Records it is the world's largest music festival so it should be reason enough.
Summerfest is known to hold more than 1000 performances in 11 days on 11 stages. This year makes it all the more special because it is the festival's iconic milestone season. 2017 will mark the festival's 50th anniversary. Headliners include names like Red Hot Chili Peppers, Luke Bryan, Paul Simon, Pink, Zac Brown Band, BiG Sean, The Chainsmokers, Dierks Bentley and may other top acts.
The festival is not only the celebration of music but also of the community coming together to celebrate summers. For fest-goers there is plenty to enjoy. With Lake Michigan nearby it makes for a perfect summer spot where you can enjoy good music, some family activities and good food. Expect to see performances from an array of genres, from rock to pop, country and alternative.
Ed Sheeran's  '÷' Tour
When and Where:
29 June – 6 October
North America
Reason to Attend
This summer the hottest pop star of the UK is busy with his '÷' Tour in support of his third studio album called "Divide." The album is dominating charts worldwide.
The ginger heartthrob has been performing in Europe and South America in the earlier half of this year and will be spending the 2017 summers in North America. So far he has announced 48 dates and if the demand for tickets grows the way it is then it is likely that more dates will be added.
The North American leg starts from 29 June at the Spring Center in Kansas City, Mo. and wraps up on October 6 at the Bridgestone Arena in Nashville. James Blunt will be his opening act on this tour. Get ready to hear the British chart-topper's new tracks such as "Shape of you," "How Would You Feel Paean" and "Castle on the Hill" from his third album and also some old favorites thrown in here and there. Excitement is reaching fever pitch as the dates are coming closer for his summer concerts; do not miss it.
Lollapalooza
When and Where:
3–6 August
Grant Park, Chicago, IL
Reason to Attend
Many flock to the Windy City for this big music gathering to enjoy good music. It features 8 stages and more than 170 acts from all across the world who come together for non-stop entertainment. Lollapalooza enjoys the reputation of being the most organized festival. Going by the 2012 example, when there was a storm with changes and reschedules the show still went on. If you are the sort who does not appreciate surprises this could be an ideal outing for you. This year's line-up includes Chance the Rapper, The Killers, Muse, Lorde, Arcade Fire and many more.
U2's The Joshua Tree Summer Tour
When and Where:
North America and Europe
North American Leg: 12 May – 1 July
European Leg: 8 July – 1 August
Reason to Attend
U2 will be on the road this summer celebrating their hit album "The Joshua Tree" as it reaches its 30th anniversary. The Joshua Tree Tour will be taking them to Europe and North America. This includes a performance at the Bonnaroo Festival as well. Tickets for their summer concerts are selling hot which is not much of a surprise. The band sold 1.1 million tickets in a day alone in March when they announced the tour.
The Joshua Tree is an epic album by the legendary band. When it was released in 1987 it turned out to be a huge success that made U2 superstars and brought them international fame. At the time Hot Press called The Joshua Tree "their most influential album yet".
After three decades, the band is celebrating its success by a tour. But there is another reason apart from celebration for this tour. U2 believes that the political situation is not very different from the time when they made this album and in the present times the lyrics carry a new meaning which the fans will be able to relate to.
U2 are excited for this tour and so must be their fans. This promises to be a big tour. The highlight of the tour is June 8, when U2 will be headlining show at the Bonnaroo Music and Arts Festival. Do not miss their extraordinary live shows. Mumford & Sons, the Lumineers and OneRepublic will be the opening acts on their American leg. The tour started on May 12 and concerts in the North American cities will continue till July 1 before the European leg of the tour kicks off on July 8.
So there we have it for you. The top must-go events for this summer. Now take your pick and join the summer party.