6 Most Popular Festivals and Concerts for Summer 2019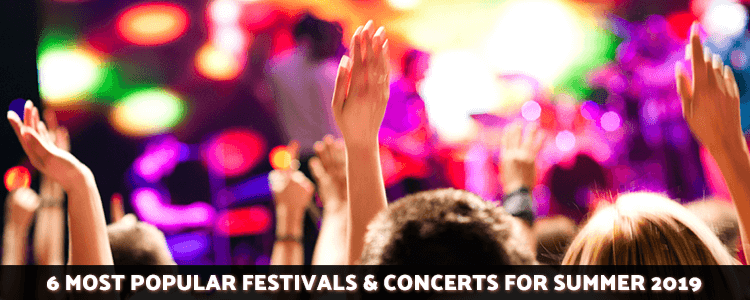 It is that time of the year again when temperatures begin to rise with each passing day and the pleasant spring season starts to give way to the impending summer. For music enthusiasts in particular, the arrival of summer means that it is time to party and have lots of fun.
There is, of course, no shortage of music carnivals both at home and around the world. Depending upon your preferred genre and the artists that you love the most, there are a number of events around the country that you can attend to sing along with your favorite performers, dance away in the sunshine and just have a good time.
Based on their prestige and popularity, we recommend that you head to one (or more) of the following music fiestas. In no particular order of importance or popularity, we present to you our picks for the 6 most popular summer music festivals.
The Coachella Valley Music and Arts Festival takes place every year at the Empire Polo Club in Indio. Its foundations were laid back in 1999. So, Coachella is turning 20 this year. Artists from a wide variety of musical genres such as pop, rock, hip-hop, indie and EDM take the stage to delight the audience with high-quality live performances. Sculptures and art installations are also a part of the festival and attract scores of people every year.
Multiple stages are set up all around the vast enclave where live music is consistently played over the course of the event (consecutive weekends in April). These include the Coachella Stage, the Outdoor Theatre, the Mojave Tent, the Gobi Tent and the Sahara Tent. An 8-time winner at the Billboard Touring Awards, Coachella remains one of the highest-grossing and most-attended music festivals in both the United States and around the world.
The likes of Red Hot Chili Peppers, Radiohead, Madonna, Coldplay, Roger Waters, Prince, Franz Ferdinand, Paul McCartney, David Guetta, Duran Duran, Usher, Rihanna, Eminem, Azealia Banks and many others have delivered electrifying performances on the Coachella stage over the years. The 2019 lineup includes Childish Gambino, Janelle Monae, Ariana Grande, Billie Eilish, Tame Impala, Wiz Khalifa, Blackpink and a host of other talented performers. It all kicks off on the weekend beginning April 12, 2019 and will conclude on the following weekend ending April 21, 2019.
The Bonnaroo Music and Arts Festival is a 4-day annual fiesta of music taking place at the Great Stage Park in Manchester. It usually begins on the second Thursday of June and lasts for 4 days. The 2019 edition will run from June 13 to 16.
The multiple stages at the event feature live music from a number of different genres including classic rock, jazz, indie rock, hip-hop, country, Americana, folk, pop, reggae, bluegrass and others. Bonnaroo has been influenced heavily by rock concerts taking place during the late 60s and early 70s.
In 2003, Rolling Stone listed the festival in its "50 Moments That Changed Rock & Roll." Notable acts in previous years have included the likes of U2, Paul McCartney, Kanye West, Jay Z, Metallica and Bruce Springsteen among others. This year's lineup will see big names such as Cardi B, Kacey Musgraves, Avett Brothers, Childish Gambino, Phish, Brandi Carlile and a number of other talented performers showcasing their musical prowess.
Though relatively younger compared to other fests on this list, the Governors Ball Music Festival is quite popular and enjoys a unique standing when it comes to summer concerts in and around New York City.
Since 2011, it has been an annual multi-day fixture at Randall's Island taking place towards the end of May and early June. Artists from various genres such as pop, hip-hop, rock, folk, Americana, etc. take part in it. A number of restaurants, cafes, food trucks, games and other entertainment activities are also a part of the festivities.
Previous years have seen Pretty Lights, Empire of the Sun, Passion Pit, Fiona Apple, Guns N' Roses, Kanye West, Kendrick Lamar, Drake, Lana Del Rey, Wu-Tang Clan, Eminem, Travis Scott and other popular artists taking the stage.
The 2019 edition includes The Strokes, Nas, Florence + the Machine and Tyler, the Creator as headlining acts. Other performers set to take the stage include Major Lazer, Lil Wayne, Kacey Musgraves, Blood Orange, SZA and Brockhampton among others.
Commonly called EDC, the Electric Daisy Carnival is one of the most popular electronic dance music festivals in the world. It is organized in many different parts of the world with the flagship event taking place every year over a number of days in Las Vegas.
EDC includes electronic music of all types and mostly features DJs as well as electronic dance producers like Calvin Harris, Armin Van Buren, Afrojack, Hardwell, Kaskade, Dimitri Vegas & Like Mike, Tiesto and Yellow Claw among others.
The 2019 edition is set to take place from May 17-19, 2019 at the Las Vegas Motor Speedway. This year's lineup is yet to be announced, however, you can expect many of the stars taking the stage at the EDC Week to also turn up in Vegas in May.
One of the longest-running music festivals on this list, Lollapalooza takes place every year over 4 days at the Grant Park in Chicago. A number of music genres are involved such as heavy metal, hip-hop, alternative rock, punk rock and electronic music among others.
This grand event welcomes over 160,000 people every year. It is also considered an influential platform for visual artists, non-profit entities, and even political groups. Previous years have seen the likes of Metallica, Snoop Dogg, Perry Farrell, Vampire Weekend, Franz Ferdinand, Major Lazer, Lana Del Rey, Ellie Goulding, and Radiohead among others rocking the stage.
The 2019 edition is set to kick off on August 1, 2019 and will run till August 4, 2019. Lineups for the grand event are yet to be announced but you can surely expect to witness electrifying performances from some truly wonderful performers. Keep watching this space for updates on the 2019 Lollapalooza artist lineup.
The world's largest hip-hop carnival will be celebrating its 5th anniversary this year and, like always, it has got a superstar lineup of artists set to rock the stage at the Hard Rock Stadium in Miami this May.
The likes of Travis Scott, Kendrick Lamar, Lil Wayne, A$AP Rocky, Kodak Black, and Young Thug have performed at the festival in previous years. The 2019 edition will run from May 10-12, 2019 and will feature a number of superstars like always. This year, the fans will get to enjoy the performances by Cardi B, Rick Ross, Kid Cudi, Wiz Khalifa, 21 Savage, Juice Wrld and Kevin Gates among others.