5 Things To Expect From Paul McCartney's One on One Tour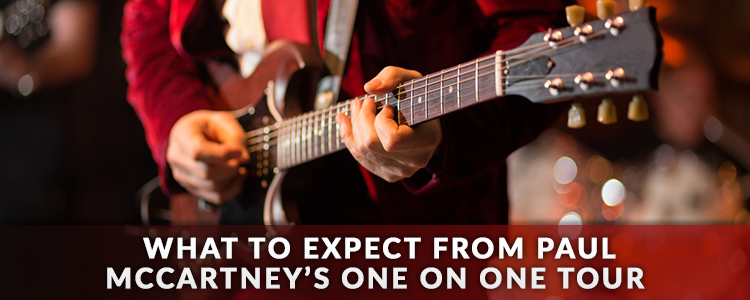 A former Beatle and a two time Rock and Roll Hall of Fame inductee who needs no introduction, Sir Paul McCartney is one of the greatest names on this planet. He was the principal songwriter of The Beatles and his songwriting skills played a big part in the group enjoying phenomenal success. In 1970, Paul's journey with the band came to an end and he began his solo career.
From the early 70's up till the late 80s, McCartney's focus was solely on recording music. It wasn't until 1989 that the rock music veteran started going on solo tours. So far, he has headlined many shows across the world. Now, the eighteen time Grammy Award winner can currently be seen on his, 'One on One' tour. He kicked off the road trip last year in 2016. In July of 2017, Paul began the North American leg of his trek and here are 5 things that you can expect from his tour.
1) Much more than a rock show
Despite being 75 years old, the English man, Paul McCartney belies his age. His performance is expected to last more than two hours during which the Ebony and Ivory singer will entertain you the only way he knows how. Though he will be thrilling fans by playing up-tempo songs with his band, don't be surprised if the recipient of the Polar Music Prize decides to slow down the pace by performing piano renditions of his hits.
Paul will also be performing an acoustic set during his performance which will make his concert very special. When he was asked what to expect from his current tour in an interview with the Rolling Stone, he stated, "Hopefully a rollicking evening out. … That"s all I can try and do. We show up and we try and have a good time and give the people a good time. Because I know what it"s like to be in the audience."
2) The best of rock music
The best thing about Paul McCartney's 'One on One Tour' is that he will not only be performing to his solo hits but will also to those from The Beatles era. This alone should be enough for the fans of rock music to attend the show.
He has confirmed that he will perform to tracks like, My Valentine, Let Me Roll It, Maybe I Am Amazed, In Spite of All The Danger, And I Love Her, Lady Madonna, Let it Be, Yesterday and Hey Jude. When he was asked about the secret of keeping his energy levels high and play that many songs each night, he responded, "I think it"s the same answer. Once you get in front of an audience … it"s a charge. It charges your battery. It just turns you up to 11. So it"s great."
3) A concert experience unlike any other
Like the name of his road trip, 'One on One,' Paul McCartney aims to deliver a unique concert experience to his fans by trying to get close to them. He says, "The truth is that when I do the show, I feel like I"m kind of talking to someone like me in the audience so, I"m relating to the people." This means that when you go to see him perform live, you can look forward towards enjoying the show at an intimate level.
You can also see him sign autographs. If you are holding a sign while watching him perform live from the front row, then chances are that he will notice you and may even greet you after the concert. So, if you want to get your favourite Paul McCartney merchandise signed, bring it to the show and he just might do that.
4) Tributes
Paul McCartney will also be paying tribute to his late band mates from The Beatles, John Lennon and George Harrison. Knighted by Queen Elizabeth II for services to music, he will take the stage to perform the song, Here Today with an acoustic guitar to honour Lennon who passed away in 1980. The track is on his platinum selling album, 'Tug of War' which came out in 1982. Paul will then pay tribute to Harrison by playing the beautiful rendition of his track, Someday with a Ukulele.
5) A powerful performance
The most important thing is that Paul McCartney will deliver another very powerful performance live. If there is anyone who knows how to work a crowd, it's him so, get ready to dance when he plays his hits. Moreover, the two time American Music Award winning singer is also known for inviting fans up on to the stage to sing with him and you could be the next one to share the spotlight with the legend himself.
Paul McCartney also vows to entertain the fans even if they didn't get the best seats in the house. In his own words, "People have said in reviews that even though we"re playing in a great big arena, there"s a very intimate quality about it with the screens we use and the way we use them. Even though you"re at the back of the hall, we try and bring the intimacy to you."
There will be plenty of memorable moments for you to experience when you catch Paul McCartney on his, 'One on One' tour. He is currently trekking through main cities in North America including, Newark, New York, Brooklyn and Detroit. Paul will then kick-off his Latin American leg of his tour in October where he will play gigs in venues like, the Allianz Parque, the Estadio Azteca, the Itaipava Arena Fonte Nova and Estadio Atanasio Girardot. He will be ending his road trip by performing the last show in Auckland, New Zealand on December 16th.
Get your concert tickets now if you want to watch him live in concert. This is a once in a lifetime experience so don't miss out on the chance to see one of the greatest artists in rock music history perform live for you.