5 Things That Make Metallica the Greatest Thrash Metal Band of All Time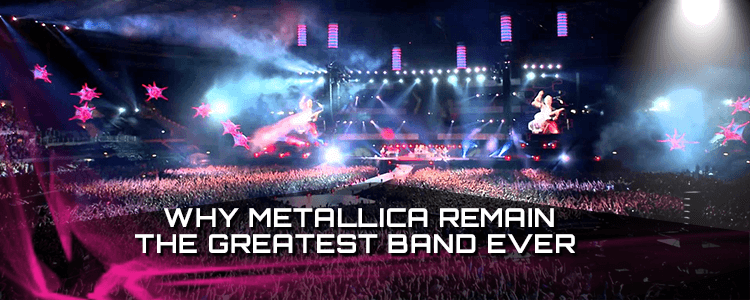 In the latter part of 1981, a four-piece group appeared on the music scene and introduced themselves as Metallica. At that time, nobody knew that this band would go on to pioneer the genre we all know as, thrash metal.
Metallica changed the landscape of thrash metal with their aggressive, fast tempo songs like, No Leaf Clover, I Disappear and Cyanide. They are thrash metal icons and if you want to know how they made their way to the top then here are 5 things that make Metallica the greatest Thrash Metal Band of all time.
Chart-topping Albums
Metallica have released six chart topping albums over the years to become one of the most successful thrash metal groups around. The albums were:
Metallica – This was their first studio effort to reach the top spot in several countries. It created such a strong impact that not only did it go diamond in the United States but was also placed in Rolling Stone's list of the, '500 Greatest Albums of All Time.' In addition, the album became a critical hit and featured thrash metal hits like, Enter Sandman and Nothing Else Matters.
Load – Released in 1996, 'Load' marks their second record to top the charts in major countries including, the United States, Australia, the United Kingdom and New Zealand. The album performed especially well commercially in the U.S. and Canada where it went five and four times platinum respectively. It also received 4/5 stars from Q and Rolling Stone.
Reload – 'Reload' was their third studio album to top the charts. It was certified triple platinum in the U.S. The record was also supported by four singles out of which, The Memory Remains, The Unforgiven II and Fuel went gold in Australia.
St. Anger – This was Metallica's fourth studio album to become a number-one hit. Issued in 2003, the record received a 65/100 rating from Metacritic and sold over two million copies in the U.S. It gave four singles out of which the title-track earned them a Grammy for the 'Best Metal Performance.'
Death Magnetic – 'Death Magnetic' was the fifth consecutive chart-topping album released by Metallica. The record was met with positive response from the critics as it was included in Time's list of, 'Top 10 Albums of 2008' and offered singles like, The Day That Never Comes and Cyanide which climbed atop the Hot Mainstream Rock Tracks.
Hardwired… to Self-Destruct – This is the group's most recent studio effort to date and it came out on November 18, 2016. It topped the charts in an incredible fifty seven countries and was ranked at the first spot on Rolling Stone's list of the, '20 Best Metal Albums of 2016.' It was also nominated for a Grammy Award in the category of the 'Best Rock Album.'
Award Wins
Another indicator to measure success is the number of award a music act has won and Metallica has won plenty of those over the years. The band has garnered nine Grammy Awards out of twenty three nominations. Three of those were won for, 'Best Metal Performance' for their songs, One, Stone Cold Crazy and Better than You. They have also won five Billboard Music Awards including two for, 'Rock and Roll Artist of the Year' and 'Catalogue Artist of the Year.' Metallica have also bagged five Kerrang! Awards and three MTV Video Music Awards. On top of that, they also have two American Music Awards to their name for, 'Favorite Heavy Metal/Hard Rock Artist.'
Record Sales
Another thing which makes Metallica the biggest thrash metal band on the planet is the amount of albums they have sold. Since their debut over three decades ago, they have racked up record sales of more than one hundred and twenty five million globally. They are also the third best-selling band since the Nielson SoundScan era started in 1991.
Inspiring the World
Metallica have also inspired many other artists and famous bands along the way. The famous guitarist of Alter Bridge and the founder of heavy metal band Tremonti, Mark Tremonti said,
"Metallica is my prime source of inspiration, especially when it comes to downstroking on the guitar. Plus Master of Puppets is still one of my favorite all-time records."
Many other bands have also cited Metallica as an inspiration including, Alice in Chains, System of a Down, Disturbed, Cradle of Filth, Lamb of God, Testament, Slayer and Evanescence. In addition, the drummer of Godsmack, Shannon Larkin has had this to say about Metallica,
"They really changed my life when I was 16 years old—I'd never heard anything that heavy."
The Rock and Roll Hall of Fame
Getting into the Rock and Roll Hall of Fame is among the highest honors an artist can receive and Metallica's induction came in 2009. The founder of Red Hot Chili Peppers, Flea inducted them and said,
"Metallica's career is a huge, dynamic thing. They have done it all. They have worked their way up from nothing; written and rocked the jams that rocked the world."
Even after spending thirty five years in the industry, Metallica are still going strong! They are on the 'Worldwired Tour' right now which commenced in 2016. The band is now scheduled to return to North America in September of 2018 and will be performing multiple shows in different cities till March of 2019. This is a once in a lifetime chance to catch them live in concert so, attend one of their shows and watch the greatest thrash metal band of all time.