5 Things That Made Ed Sheeran the Ultimate Star of 2017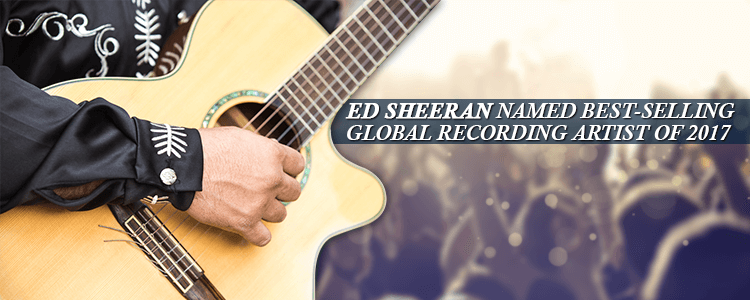 What makes an artist successful? Is it the number of records they sell, the awards they win or the number of chart-topping hits they produce? Well, if success is measured on those terms than the Halifax born singer-songwriter, Ed Sheeran is one of the most successful pop superstars in the world who just had an incredible year in 2017. What made that year so special for him is that he was not only appointed as a Member of the Order of the British Empire but also got a chance to make a cameo appearance on the most popular television series, 'Game of Thrones.'
That is not all as Sheeran also achieved some huge milestones in his career which set him apart from his other pop contemporaries. What were they? Well, let's find out by having a look at 5 Things That Made Ed Sheeran the Ultimate Star of 2017.
The Unprecedented Success of Divide (÷)
2017 was a great year for music as many popular stars came out with new records including Ed Sheeran. His studio LP, '÷' hit the markets on March 3, 2017 and became the biggest album of his career as it sold more than six hundred thousand copies in the first week of its release. On top of that, the record topped the charts in more than twenty countries including Australia, the United States, the United Kingdom, Canada, Spain, New Zealand and Brazil. It also went multi-platinum in almost all parts of the world with the exception of France and Poland where it was certified Diamond.
Apart from enjoying phenomenal commercial success, '÷' also gathered great critical acclaim. Executively produced by Benny Blanco and Sheeran, it received four stars out of five stars from publications like, NME and Rolling Stone and reached first spot on Neilson Music's list of the, 'Top 10 Albums of 2017 in U.S.'
The Hit Songs
Ed Sheeran dominated 2017 thanks to his collection of hit songs that featured on his number-one studio album, '÷.' The record comprises twelve songs all of which were extensively streamed throughout the world and created a strong impact on the pop music world. Out of those tracks, he churned out four as singles, Castle on the Hill, Shape of You, Galway Girl and Perfect.
Castle on the Hill – This song was released on January 6, 2017 as a digital download and served as one of the double lead singles of his album, '÷.' It debuted at the first spot in Scotland and Iceland whereas in the United States, the track reached sixth spot on the Billboard 200. Castle on the Hill also received multi-platinum certification by the RIAA, BPI and MC and was approved by the critics.
Shape of You – This track served as the second lead single of '÷' which took the music industry by storm. It reached the top of the charts in almost every part of the globe and stayed at the first spot on the Billboard Hot 100 for twelve non-consecutive weeks. In addition, Shape of You turned out to be the best-selling song of 2017 in the United Kingdom and has been remixed by many famous artists including, Major Lazer, Galantis, Stromzy and Wale.
Galway Girl – Released on March 17, 2017, this track is a collaborative effort between him and Ireland based group, Beoga. It was heavily influenced by Irish traditional music and became a big hit in European countries as the song topped the charts in countries like, Scotland, Slovenia, Ireland, Iceland and Slovakia. Moreover, it was certified double platinum in the United Kingdom. Galway Girl also made waves in the United States and went Gold in the country.
Perfect – This is fourth single from the album which came out on September 26, 2017. The track became a global hit and landed atop the music charts in several countries. Plus, it went four and two times Platinum in the United States and United Kingdom respectively. Three months later, he spawned two new versions of this song titled, Perfect Duet which featured the multi-time Grammy winner, Beyoncé and Perfect Harmony with the legendary Italian Classical Crossover artist, Andrea Bocelli. Both of those versions earned the approval of the fans and critics.
Award Wins
Artists are given awards for their outstanding contribution to music and Ed Sheeran won plenty of them in 2017 and 2018. He won two Grammy Awards under the categories of, 'Pop Solo Performance' for his song, Shape of You and 'Best Pop Vocal Album' for his record, '÷.' He then bagged one MTV Video Music Award for 'Artist of the Year' and took home an iHeartRadio Much Music Video Award for 'Most Buzzworthy International Artist or Group.' In addition, Sheeran earned five Brit Award nominations out of which he bagged one in the category of 'Global Success Award.' He has also received five American Music Award and two BBC Music Award nominations.
Becoming Spotify's Most Streamed Artist of 2017
Becoming one of the most streamed artists on Spotify is a huge milestone and Ed Sheeran achieved this feat on December 5, 2017. The Chief Content Officer of Spotify, Stefan Blom congratulated him on this achievement by stating,
"There is no doubt that 2017 was The Year of Ed Sheeran, and we are thrilled that so many millions of music fans have discovered, listened to, and shared his music on Spotify. Congratulations to Ed on an amazing achievement."
Sheeran's album '÷' was named as the most streamed record of the year with in excess of three billion streams. The record's lead single Shape of You turned out to be the most streamed song of all time as it generated over one billion streams on Spotify.
Ed Sheeran's Album, Divide (÷) Gets Shortlisted for Mercury Prize
Ed Sheeran's third studio effort, '÷' became an enormous hit globally. So, it was only a matter of time before it got shortlisted for Mercury Prize in 2017. This is what the singer had to say regarding the subject:
"To be put on the shortlist is a real honor and something that makes both 26 year old me and 13 year old me very happy and proud."
Artists like Ed sheeran are born once in a lifetime. In just seven years, he has conquered the world of pop music and has no plans to slow down anytime soon. In fact, Sheeran is currently on, '÷ Tour' which started on March 16, 2017. So far, he has performed several shows in Europe and is scheduled to kick off the North American leg in June. So, will you be in attendance when he takes the stage in your city?