5 Things You Can Expect from Ed Sheeran's Next Album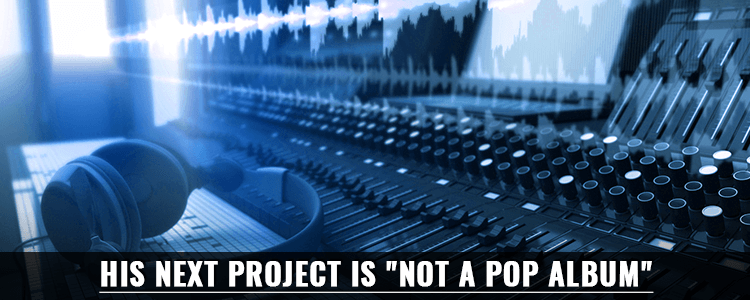 Ed Sheeran is a critically and commercially acclaimed pop sensation who is now one of the biggest stars on this planet. Millions of fans have been hooked to his music ever since he debuted in 2011 and that is down to his singles like, Castle on the Hill, Shape of You and Perfect. All of these tracks turned out to be huge hits, especially Shape of You which peaked at the first spot in over forty countries.
Ed Sheeran's latest record to date, '÷' came out on March 3, 2017 and generated a lot of headlines. It won him a Grammy Award in the category of, 'Best Pop Vocal Album' and went multi-platinum in the United States, Sweden, New Zealand, Canada and Australia. The five-time Brit Award winner has now revealed that he is working on a new studio project. Let us take a look at 5 things you can expect from Ed Sheeran's next album.
Not a Pop Record
Ed Sheeran specializes in making pop ballads and has enjoyed great success by coming out with studio efforts like, '+' and '×' both of which sold more than one million copies each in the U.S. But for his upcoming record, the I See Fire singer has decided to ditch his signature sound to try something different. He confirmed this on George Ezra's podcast, 'George Ezra & Friends' by saying,
"The next record that I'm making is not a pop album."
Sheeran then explained the reason he has decided to switch from pop. Since he has become one of the most popular stars on the planet, he thinks it is time he controlled the expectations of his label and fans because it can all end very quickly. He said,
"I feel like it's dangerous to have a career that goes bigger and bigger and bigger and bigger and everything's happening, because at some point it's gonna drop."
It Will Be Personal
Ed Sheeran's next studio album will be his most personal record to date. He has been writing songs for his upcoming LP since his debut studio effort, '+' came out in 2011 and has even penned down six tracks so far. In addition, Sheeran has said that he won't consider it a failure if his new record sells just a couple of million copies because he has recorded an album that is different from his other works.
Might Yield Chart-Topping Singles
Ed Sheeran has come out with plenty of number-one hits to date. His last two studio records, '×' and '÷,' gave number one singles like, Sing, Thinking Out Loud, Shape of You and Perfect. Thinking Out Loud went diamond in the United States and won a couple of Grammys for, 'Best Pop Solo Performance' and 'Song of the Year.' Perfect was certified multi-platinum in several countries and was remixed by Robin Schulz and Mike Perry. So, looking at his past record, it wouldn't be a surprise if Sheeran's next studio project yields more chart-topping singles.
Possible Collaborations
It is always great when different artists collaborate. Ed Sheeran has worked with many famous stars in the past including, Rudimental, Beyoncé, Taylor Swift, Eminem, Hoodie Allen and Lupe Fiasco to name a few. So, there is a chance that his upcoming studio effort might feature exciting new collaborations too. The question however is, who will appear on the album? Rumors are that a song with DJ Khaled might be part of the record as Sheeran has previously said that the duo has got something planned. Another name that may feature on the album is that of Justin Bieber. Sheeran has expressed his willingness to work with the pop superstar and this is what he had to say on the subject,
"I'm always, always up for working with Bieber."
It Might Be Stylized as –
There is a lot of speculation about the name of his upcoming record. It is not a pop album, like his previous work and Sheeran is keeping the name under wraps. His first three studio efforts were titled +, X and ÷ so it might just be stylized as – but then that is something only he knows. The name of the album will be more or less on the same lines as his previous three records and when Sheeran was asked about it, he said,
"It's within that Vein."
As of now, Ed Sheeran has neither confirmed the name nor shared the cover-art of his upcoming studio project. He has also not announced the release date but that hasn't stopped his fans talking about it. So, are you curious to know what Sheeran's new album will sound like? We know we are!