5 stars who tasted failure before success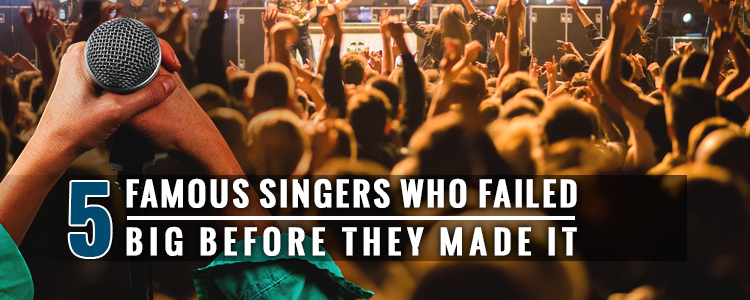 Success doesn't come easy. Apart from hard work and determination, one has to admit that it's okay to fail sometimes. Sir Winston Churchill said it best, "Success consists of going from failure to failure without loss of enthusiasm".We always find setbacks in our lives and even some of the biggest names in the music industry have gone through tough times to get where they are today. Here are five such music stars who failed before they hit it big. So, let's begin!
1. Lady Gaga
You all love Lady Gaga for her monstrous hits like, Telephone, Alejandro and Born This Way but only a few know that her road to stardom wasn't simple. In fact, when she submitted her demos to the new boss of Def Jam, he was so unimpressed that it led him to label her music as, 'disgusting.'  In her own words, Gaga stated, "They would say, 'This is too racy, too dance-oriented, too underground. It's not marketable.' And I would say, 'My name is Lady Gaga, I've been on the music scene for years, and I'm telling you, this is what's next.' And look…I was right."
Lady Gaga later signed with Akon's Konvict Music and the rest is history. She instantly became the talk of town when her debut studio album, 'The Fame' came out in 2008. The record peaked at the second spot on the Billboard 200 and was awarded quadruple times platinum by the RIAA. Moreover, it also racked up record sales of over fifteen million worldwide. Three years later, Gaga's sophomore album, 'Born This Way' came out which was packed with memorable hits. The record topped the charts in several countries throughout the globe and was mentioned in Rolling Stones' list of the, '50 Best Albums of 2011.'
After the world began to recognize her name, she released another hit studio effort, 'Artpop' in 2013. Just like her previous two albums, this record also received favorable response from the critics. Gaga later spawned two more records including her most recent, 'Joanne' which made it to the Billboard's list of the, '50 Best Albums of 2016.'
2. Madonna
Who would have thought that the Rock and Roll Hall of Fame inductee, Madonna will also be included in this list? She too, like Lady Gaga had to struggle in her initial years before she became a pop icon. To kick things off, she started to make music with bands like The Breakfast Club and Emmy. Soon, she decided to follow her solo career and approached Millennium Records, but was rejected by the president of the company who said that she was, "not ready yet" and he would, "pass for now."
This caused the Frozen singer to become more motivated and soon she was signed to Seymour Stein's label, Sire Records. Later, Madonna's first self-titled studio album came out in 1983 which became a major hit in the United States. It accumulated record sales of over five million in the country. After that, she went on to rein the music charts from 1984 to 1989 by churning out three consecutive number one studio efforts, 'Like a Virgin,' 'True Blue' and 'Like a Prayer.'  She didn't slow down after spawning these three albums and went on to record more hit records like, 'American Life,' 'Confessions of a Dance Floor,' 'Hard Candy' and 'MDNA' all of which landed at the first spot on the Billboard 200.
Madonna's music has brought her a lot of international success. She has also garnered multiple accolades for her work including, two Golden Globe, two Juno and five Billboard Music Awards.
3. Katy Perry
Katy Perry is a pop megastar who has achieved tremendous feats in the music industry. But, did you know that her rise to the top was met with multiple roadblocks? Katy was born a Christian so, she decided to pursue her career as a gospel singer and dropped her album, 'Katy Hudson' with Red Hill Records. It neither received any success on the charts nor did it bring her any popularity. Following her unsuccessful start, she decided to sign with Def Jam but later, her contract with the company was terminated. After that, Columbia Records recruited Katy only to drop her from the label.
All these obstacles never let Katy Perry lose hope and she bounced back with her album, 'One of the Boys' in 2008 which was issued by Capital Records. The record gave a single, I Kissed a Girl which became a number one hit in countries such as the United States, Australia, Austria, Canada and New Zealand. The thirteen-time Grammy nominated singer later went on to become a global superstar by churning out three back-to-back albums, 'Teenage Dream,' 'Prism' and 'Witness.'
4. Colbie Caillat
Another star that failed to make an impact early on in her career is Colbie Caillat. Growing up with an interest in music led her to audition for, 'American Idol' but she was unable to impress the judges. She stated, "I was shy. I was nervous. I didn't look the greatest. I wasn't ready for it yet. I was glad, when I auditioned, that they said no." The rejection allowed Caillat to improve her singing and songwriting abilities. Soon, her debut album, 'Coco' hit the markets in 2007.  The album was certified double platinum in the United States.
Since then, Colbie has been on fire. She has been playing music in every part of the world and is also credited for releasing a chart-topping record, 'Breakthrough.' On top of that, the California native has also won three Grammys in her career so far.
5. Jay-Z
The last name on our list is, Jay-Z. He also faced obstacles before the New Yorker went on to become a rap music phenomenon. When he was determined to begin his career, no label was willing to sign him. Frustrated by failing to sign with any record company, he decided to establish his own called, 'Roc-a-fella Records.' He then put out his first album, 'Reasonable Doubt' which recorded platinum level sales in the US.
Today, he has become a business mogul and is the winner of twenty one Grammys. Plus, Jay-Z has gone on to sell more than one hundred million album copies worldwide.