5 Dos & Don'ts of Theater Etiquette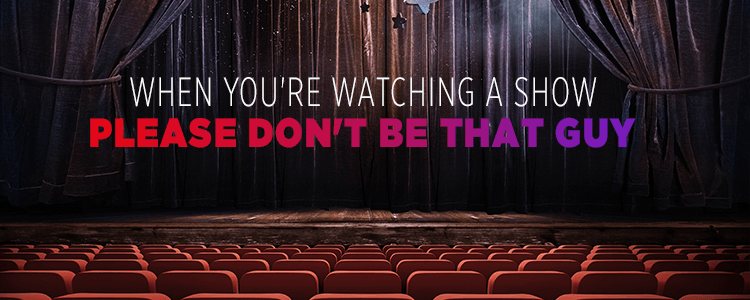 2019 is going to be a memorable year for theatergoers as yet another exciting season is going to begin. You will get to enjoy some of the most famous musicals in the world including, 'The Lion King,' 'Cats,' 'Dear Evan Hansen' along with new shows like, 'Choir Boy,' 'True West,' 'Be More Chill,' 'King Lear' and many more, live.
Of course, going to watch a theater show is a lot different than going to watch a film as there are specific rules that you need to follow in order to ensure uninterrupted experience for everyone. So, if you are planning to go to a theater, then here are 5 dos and don'ts of theater etiquette that you need to keep in mind:
The Dos of Theater Etiquette
Understand and respect the rules of the place
Every theater, though different in architecture and size has its own set of rules. If you understand and respect them, then it will make for a wonderful experience. However, undermining them can cause quite a hassle not only for yourself but also for others. So, it is always better to go through the rules of the theater before you enter the building.
Dress for the Occasion
Watching a show in a theater is a special experience so, it is necessary for you to dress properly. A rule of thumb is to wear an outfit which matches the price of your ticket. Even though there is nothing wrong in wearing casual attire but to attend a show wearing a sweatshirt or leggings does look a little out of place. It is fine to wear comfortable clothing but make sure that you look polished.
Arrive on Time
If you plan on watching a theatrical performance of your favorite show then please make sure that you arrive on time. Punctuality shows that you respect the actors as well as your fellow theatergoers. Plus, make sure that you use the restroom before you take your seat or during the intermission. Getting up and going during the performance will cause disruption.
Applaud at the Right Time
While watching a theater show, it is really important to applaud at the right time. If you are attending a musical, then it is best not to clap during the song. Sometimes, a song will be transitioned into a scene so, in that case don't clap until the scene is over or the next song ends. If you are watching a play, then the appropriate time to clap will be when the scene ends. You should definitely applaud at the conclusion of the show whether you like it or not as this will help raise the morale of the actors and the entire team.
Respect the Actors
One should always be appreciative of the actors. These people withstand the hottest and brightest of lights while wearing heavy costumes to make your experience memorable. On top of that, they perform live day in day out and that alone deserves a lot of respect because it is not easy.
The Don'ts of Theater Etiquette
Avoid Using Flash Photography
Taking a picture in a dark place with the flash on can be disturbing, especially for someone who is totally focused on something else. So, if you take a picture in the theater during a performance, it can distract the actor, as a result of which their performance will suffer.
Do not sing along with the performers
It is normal to feel the urge to sing with the actors on stage but doing this will simply disturb the entire ambiance. You have to respect your surroundings and must realize that you are watching performers performing on the sons and that you are not at a concert. However, if you are asked by the actors themselves to sing along, then that is a different matter altogether.
Avoid sneaking food into the theater
This is important as bringing food into the theater might not be allowed. So, if you decide to stop at a restaurant and try to bring food into the theater, then chances are that you will get caught. Your bag will be checked thoroughly by the staff members and if they find any food items, then they will simply ask you to take them out. So, it is better if you purchase food available inside the theater.
Don't Fall Asleep and Don't Talk
Whenever you plan to watch a show on stage, make sure that you are well rested and not tired. Snoring during the show does not help anyone. Plus, do not fidget around and stop talking once the performance begins because that is a major distraction.
Avoid Using Your Phone
Please don't use your cell phone while watching the show. You can turn off your phone when you enter the theater or simply put it on silent mode and turn the brightness down. If you use your phone during the show then there is a pretty good chance that you will be asked to stop doing that.