3 Reasons why Lady GAGA is a wrong choice for Super Bowl 2017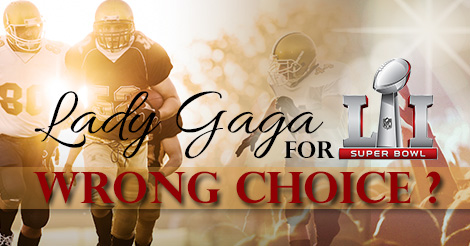 Speculation had been rife since the days of Super Bowl 50, that Lady Gaga would headline the halftime show at the next Super Bowl. Most people believed that it was her amazing rendition of the National Anthem which convinced the NFL to consider her as one of the performers for the half time show for next year. Rumors about Gaga's involvement in the show continued to grow over the course of the year, even though at one point it seemed as though British sensation Adele was being considered for the job.
However, it has recently been confirmed that Lady Gaga will take center stage for Super Bowl 51. While many of you might be excited at the possibility of seeing Gaga take on the gig, we aren't so sure. Here is a list of reasons which we think support the case for her not performing at the Halftime show. You are obviously free to disagree with us, but here us out first.
She's been away from the pop scene for too long
In recent years, Lady Gaga has put her pop career on a back burner and focused on other projects. In 2013, she made her foray into acting and had a role in Robert Rodriguez's action comedy film, Machete Kills. She followed that up by hosting Saturday Night Live and starring in another Robert Rodriguez project, Sin City: A Dame to Kill For. Gaga branched out into fashion soon after and was the face of Versace's 2014 Spring Summer collection.
In her music career, Gaga stepped away from her pop roots and recorded a jazz album with Tony Bennett. Titled Cheek to Cheek, it went on to win a Grammy Award but was very far off from Gaga's usual brand of music. Suffice it to say, Gaga won't be singing any songs from the album when she headlines the halftime show. In 2015, Gaga starred in the FX network show, American Horror Story: Hotel, and went on to win a Golden Globe Award for her work in the series.
In 2016, Gaga announced that she was going to release her latest album, Joanne in October. Reverting back to her pop roots, the release of the album was preceded by the single, "Perfect Illusion" which has been received well by fans.
However, it can be argued that Lady Gaga's interests now lie elsewhere in the entertainment industry and it seems she is diverting from her pop music core. She has already signed on for the new season of American Horror Story and will work with Bradley Cooper on a film project next year. So is it wise to let her perform on the Halftime show, where everyone will want to listen to her pop classics?
Consecutive pop performers
In recent years Madonna, Katy Perry and Beyonce have all headlined Super Bowl halftime shows. While it is true, that Bruno Mars and Coldplay were thrown into the mix last year, the Super Bowl has been riddled with pop performers. Maybe collaborations are the way to go forward, but it has to be said that fans want something different to the usual pop genre hits that performers like Gaga, Katy Perry and Beyonce bring to the table.
Maybe it's time to let another genre take center stage at the halftime show? There are plenty of hard rock or metal acts that would spice things up. Alternatively, rap/hip hop artists could add something new to the mix as well.
Sports Fans want Music Acts related to sports
The Super Bowl is one of the most watched broadcasts in the world, with millions of people tuning in worldwide. Most of them are diehard fans of the sport, who have raised concerns that sports teams are rarely associated with pop songs, which is why having someone like Lady Gaga performing at the Halftime show is silly. Fans would rather prefer bands like Metallica or the Foo Fighters, whose music is used by teams during their entrances to the pitch, ice rink or baseball field. Secondly, hard rock songs can actually pump up teams during the half time break and they can come out more energized afterwards.
Not a lot of sports teams would use Lady Gaga's music for their entrances and blare it on the speakers to pump up the crowd. So having her perform at the biggest sporting event in the country seems kind of contradictory.
These were some of the reasons which we came up with as to why Lady Gaga was perhaps not the best choice for the Super Bowl halftime show. There is no doubt she is an accomplished artist in her genre, but maybe that genre is not what fans want year in and year out. If you disagree with us, then let us know why in the comments below.