The 3 New York Yankees Prospects To Look Out For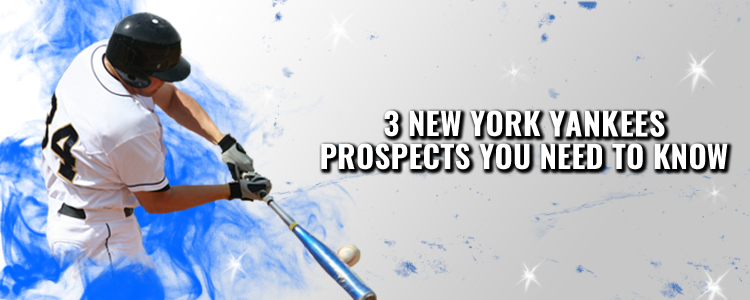 The New York Yankees are slowly but steadily getting their bearings right once again. They have not won the World Series since 2009 and it is a drought that does not sit well with everyone associated with the most successful MLB franchise in history. The Yankees are now building a team for the future and they are banking on some really talented youngsters to form the core of that side.
While everyone thinks that the Yankees are some evil corporate machine that can throw money at everything and use their financial clout to climb their way out of trouble, the reality is that they are taking a different approach this time around.
Their farm system is working extremely well and now the Yankees have quite a few young talented players that they can bring up to the first team. Here we look at the 3 New York Yankees prospects to look out for in the near future:
Chance Adams
Chance Adams is one of the hottest properties in baseball right now. The 23 year old has been excelling in the minor leagues and it certainly looks as if it is a question of when he will step up to join the New York Yankees. Adams kicked of the 2017 season with the Trenton Thunder and went 4-0. His ERA was 1.03. His performances led to his promotion to the Scranton/Wilkes-Barre. He is now 11-5 at the Triple A level with an ERA of 2.89. The winning percentage stands at .688.
There are people who think that Adams is just simply too good for the minor leagues now and that he should be promoted to the MLB by the Yankees. But the franchise management is taking it slow and rightly so. They do not want to put too much pressure on a young talent and it will serve them well in the long term if they slowly bed him in.
Clint Frazier
The New York Yankees brought Clint Frazier on board from the Cleveland Indians in 2016 and it is looking like a very good deal. Frazier was sent to the Scranton/Wilkes-Barre RailRiders and he finished the 2016 season with a more than decent record. Frazier had a .263 batting average, with 16 home runs and 55 RBIs. He then began the 2017 season with the RailRiders and played 73 games with them. After recording .257 average and hitting 12 home runs with 42 RBIS, he was called up by the New York Yankees on July 1, 2017.
Frazier then got injured on August 10, 2017 and has been on the sidelines since. Before his injury he had played in 33 games with 123 At Bats. Frazier scored 14 runs and recorded 29 hits. He also hit 4 Hrs and recorded an RBI of 17. It will be interesting to see if he is brought back into the fold by the Yankees but one thing is for sure that if he keeps his head down and keeps working hard, Clint Frazier is a New York Yankees prospect to look out for.
Gleyber Torres
Gleyber Torres is the crown jewel of the Yankees' farm system. He is out injured and he still topped MLB.com's Top 100 Prospects List. Torres was extremely close to making it to the major leagues after his impressive performance in the minor leagues. He began the season with Trenton and played 32 games and then was promoted to Scranton/Wilkes-Barre RailRiders. He played 55 games for both sides combined and went .287/.383/.480. He also scored 7 HRs and put up 34 RBIs in those 55 appearances. And he is just 20 years old which makes these numbers even more impressive.
The Yankees look in safe hands and a lot of that has to do with the work they have done on their farm system. They have the talent in the minor leagues that will help them in the long run. These are the 3 New York Yankees prospects to look out for, according to us. If you have anything to say, feel free to comment.