20 Things You Might Not Have Known About Hamilton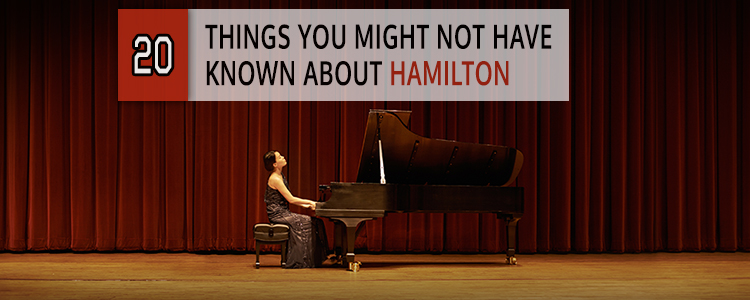 Very few could have predicted the success that Hamilton would go on to achieve. A Broadway musical about one of the most famous figures in history makes sense; but to have a hip hop musical on the topic seems simply nonsensical. However, the team behind the production, and especially Lin-Manuel Miranda, have managed to achieve something no one could have predicted; Hamilton was the most successful musical of the year and still remains the hottest musical ticket in the country.  In this article we take a look at some facts that you might not have known about your favorite musical.
Inspired by Ron Chernow's biography of Hamilton:
Lin-Manuel Miranda's previous production, In the Heights, had won four Tony Awards during the 2008 ceremony. Miranda went on vacation after that and on the way picked up a biography of Alexander Hamilton, which was penned by Ron Chernow.
Miranda was especially inspired by a particular scene in the book, which describes how after a hurricane had destroyed St. Croix, Hamilton writes a poem to get off the island. He felt that this was the essence of hip hop, which allows artists to write their way out of difficult circumstances and write about what kind of future they want for themselves. As a result, Miranda started thinking of penning Hamilton's story in hip hop.
Started Off as a mixtape
The musical was initially envisioned as a mixtape by Lin-Manuel Miranda. According to him, he was working on making a concept album on the story of Hamilton's life and that it's working title was the Hamilton Mixtape. While writing songs for the album, Miranda would envision his favorite rappers singing those songs. This allowed him to visualize the story unfolding via a performance on stage.
Miranda has also unveiled that he imagined George Washington to be a mix between John Legend and Common, while Hercules Mulligan was portrayed by Busta Rhymes in his head. Hamilton himself was modeled after Miranda's favorite polysyllabic rhyming heroes, Eminem, Big Pun and Rakim.
A Lot of Research Went Into It
Miranda was so invested in his idea for the musical that he extensively researched on Alexander Hamilton's life. This involved reading Hamilton's written works and letters and visiting historical sites in New York which were important to the American Revolution.
Interestingly, Miranda just didn't only conduct research on Hamilton, but on other characters and situations as well. For example, to understand the character of Aaron Burr, he read H.W. Brand's The Heartbreak of Aaron Burr. Similarly, to understand the dueling code, he read Joanne Freeman's Affairs of Honor.
Miranda also looked at several musicals before diving headfirst to write Hamilton. Musicals like Jesus Christ Superstar and Les Miserables were instrumental in influencing how he approached Hamilton. Jesus Christ Superstar, for example, was also written as a concept album before being made into a musical, while Les Miserables was used as a reference for how to implement songs for maximum effect.
Chernow was a Historical Consultant for Hamilton
Prior to completing the musical, Miranda performed the song which would become "Alexander Hamilton" at the White House, where Chernow was also present. Soon, Miranda brought the biographer on board to act as a historical consultant for the show.
According to Hamilton, theater people usually don't have a good grasp on history and rely on other musicals and stage plays for information on historical events. This is why he felt he had a responsibility to be as accurate as possible in his portrayal of history, while maintaining a dramatic element to the story. To maintain the fine line between accurate representation and dramatic showmanship, Chernow was brought on board to keep the team grounded.
Chernow read and analyzed each and every song and assessed every aspect of the musical for historical accuracy. This did wonders for the production and critics were unable to write anything against the representation of Hamilton's story on stage.
King George's Song was written on Miranda's Honeymoon
The King George number, "You'll Be Back", was written in 2010 on Miranda's honeymoon. Interestingly, he did not have a piano at that time and wrote it without it.
The song is pretty different from the rest of the songs in the musical. The British Monarch sings the song during the divorce between England and America and is a throwback to an almost sixties Beatles tune. The lyrics of the song are particularly interesting since George's attitude is like, 'You're leaving me? Oh, really? Well, good luck with that.'
"Wait For It" Was Written on the Subway
Keeping in line with the theme of songwriting, the Aaron Burr number, "Wait For It", came to Miranda while he was travelling on the subway to a friend's birthday. A lyric from the eventual chorus came to him and he recorded the melody on his iPhone. He later stopped at his friend's house for fifteen minutes before writing the complete song on the train back home.
"Guns and Ships" is Rapped Very Fast
The song "Guns and Ships" is rapped at an astonishing 6.3 words per second. This is the fastest track from the musical and really conveys the sense of urgency being portrayed on stage. This is one of the reasons why Miranda chose hip hop as the medium for this story; it has rhythm and density and those were integral elements for the musical's success.
Over the course of the musical, Miranda packed in almost twenty thousand words in the space of roughly two and a half hours. That is almost 144 words each minute. Had Hamilton's songs been sung at the pace of normal Broadway musicals, the production would have been almost four to six hours long.
Initially Miranda Wanted To Play Both Burr and Hamilton
Once the musical was complete, Miranda could not decide if he wanted to portray Burr or Hamilton on stage. He felt an affinity with both characters and considered that at various points in his life he had been a little bit of both. Eventually, however, he decided on Hamilton, with Leslie Odom Jr. getting the role of Burr.
Miranda did cheekily remark that he stupidly gave Burr the best songs in the musical, "Wait For It" and "The Room Where It Happens". He claims these are the two best songs he has ever written in his life and the character of Burr gets to sing both of them.
The Casting Was Deliberate
Eyebrows were certainly raised when the cast for the show was announced. African American actors were portraying historical figures that were Caucasian. However, Miranda has stated that the musical's goal was to portray the story of America as it was then, by America as it was now. This meant that the story would be a reflection of American society as it is today.
A wonderful step, it allowed them to cast the best people for the role. The only main character who isn't African American is King George. For the troubles plaguing American society, this was a very powerful statement indeed.
George Washington's Death Was Cut From the Musical
Miranda recently revealed that initially, the death of George Washington would be shown on the stage. However, it was later decided that despite the fact that the scene was very emotional, it was more or less redundant since they had already shown Washington say his goodbyes in a song.
On that note, we will say our goodbyes too. We hope that you learnt something about the hit musical that you didn't know before. If you have other anecdotes or facts that we missed out, please let us know in the comments below. And if you haven't watched the musical yet, get Hamilton tickets to watch it live!