10 Things You Might Not Know About Luke Bryan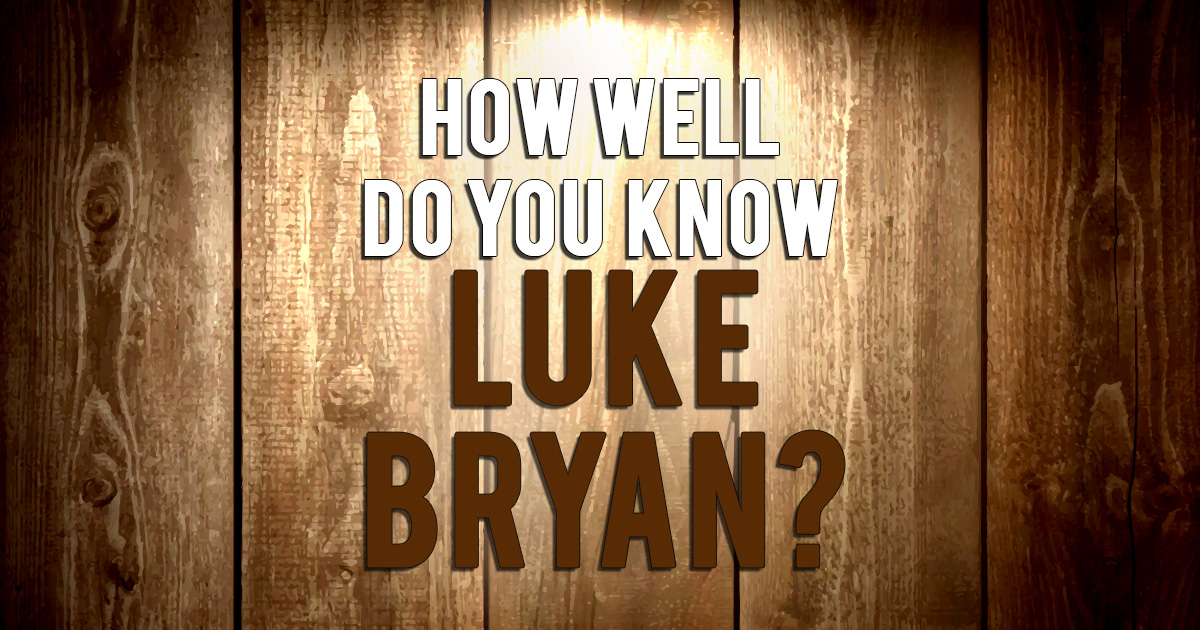 More often than not, celebrities tend to talk about the importance of hard work and perseverance as the primary tools for success. But only a very few of them talk about luck and the impact it can have on a person's life. Because many a times you can have all the talent in the world and might even be willing to work harder than you have ever done in life to achieve your goals, but still end with nothing to show for it. For country music star Luke Bryan, much of his early attempts at forging a successful career in music, seemed to follow a similar path. It wasn't until his big break in 2006, that his luck finally changed and he was able to achieve his dream of becoming a world famous artist.

Since his early childhood Bryan has gone through a lot and there were times when he felt his dream slipping away. But with a lot of hard work, perseverance and, yes, some luck, he has now managed to release five chart topping albums, which have combined managed to sell over seven million copies around the world. For his dedicated group of fans he is the best singer country music has seen in decades and here is their chance to find out a little bit more about their favorite artist. Here are 10 things you might not know about Luke Bryan.
1. The Rock of Ages connection
Luke Bryan was born in 1976 and he was an underweight and sickly child, according to his mother. It caused him a lot of trouble when trying to fall asleep and to aid the process his mother would keep rocking him all night, all the while singing the popular Christian hymn "Rock of Ages." After a little while, his mother realized that even though Luke hadn't learnt to talk, he could still hum the tune of the song himself and she took it as a sign that her son was always meant to be a musician.
2. The dream is put on hold
When Bryan was just nineteen years old, he decided to move to Nashville in order to fulfill his dream of being a musician. However, only a few days before he was going to leave, he and his family received the shock of their lives when they heard that their eldest child, Chris, had passed away in a car accident. The move to Nashville was put on hold as a result and it would be another few years before he would get the opportunity once again.
3. The dream is put on hold
Bryan's dedicated fan club is known as "The Nut House." The name is based on his father's peanut farm, where Luke had grown up, and even worked at during his time in college.
4. Honored by his city
After he became a world famous musician, Bryan's local community in Leesburg, Ga. wanted to express their satisfaction at watching a local kid make it big in the world of music. So, they decided to honor him by putting his name on the welcome sign for the city for everyone to see.
5. The tattoo
Bryan married his college sweetheart, Caroline Boyer, in 2006 and they have two sons together. Over the years, he has been quite vocal about the affection he feels for his wife and in 2014 his close friend Jason Aldean revealed that the singer had even gotten the initials of her name tattooed on his backside. Now that's true love!
6. The Buck Commander
In 2006, Willie Robertson, of Duck Dynasty fame, decided to start a hunting company specifically focused on catching Deer. He decided to involve other likeminded individuals who would also be interested in the hunting experience. One of the first people he called was Luke Bryan, an avid hunter, who came on board at once. They added country music star Jason Aldean, as well as professional baseball players Ryan Langerhans, Adam Laroche and Tombo Martin to start their new business, which they dubbed "Buck Commander." Since its start, it has kept on growing at a steady rate and today the Outdoor Channel even features a television show featuring all the owners, called "Buck Commander Protected by Under Armour".
7. Bryan helps others
Bryan had to fight for most of the things in his life and has been faced with insurmountable challenges in the past, but, a mixture of good luck and hard work has made him the man he is today. However, he does not wish for anyone else to go through what he did. In order to help others, he started the "Luke Bryan Farm Tour Scholarship," a limited concert tour to provide scholarships to students belonging to farming communities, just like him. Additionally he has also worked on several other charities, including the Red Cross, the Give with Target campaign, etc.
8. Looking after his sister's children
One of Bryan's biggest supporters was his older sister, Kelly, who once gathered over a hundred people for his first performance at the Grand Ole Opry. However, tragically, she passed away only a few days after the performance, due to still unknown reasons. A few years later her husband died unexpectedly as well, leaving their three children behind. However, Bryan swooped in and took the children home with him, and is now raising them as his own. A true gentleman at heart.
9. Bryan's success story
Bryan has released a total of five studio albums to date, starting with his debut album "I'll Stay Me" back in 2007. Except for only this album, which could only record gold level sales in the US, all the rest of his albums have been certified platinum or multiplatinum in the US, while his last three albums have also made it to the top of the US Country music charts.
10. Nervousness before concerts
Bryan has been on countless concert tours around the world, and has performed for millions of people over the years. However, to this day he still feels the same kind of butterflies in his stomach that he did on his first day performing in front of crowds. He even has panic attacks before going out on stage or giving interviews.