10 Things You Might Not Know About Beyonce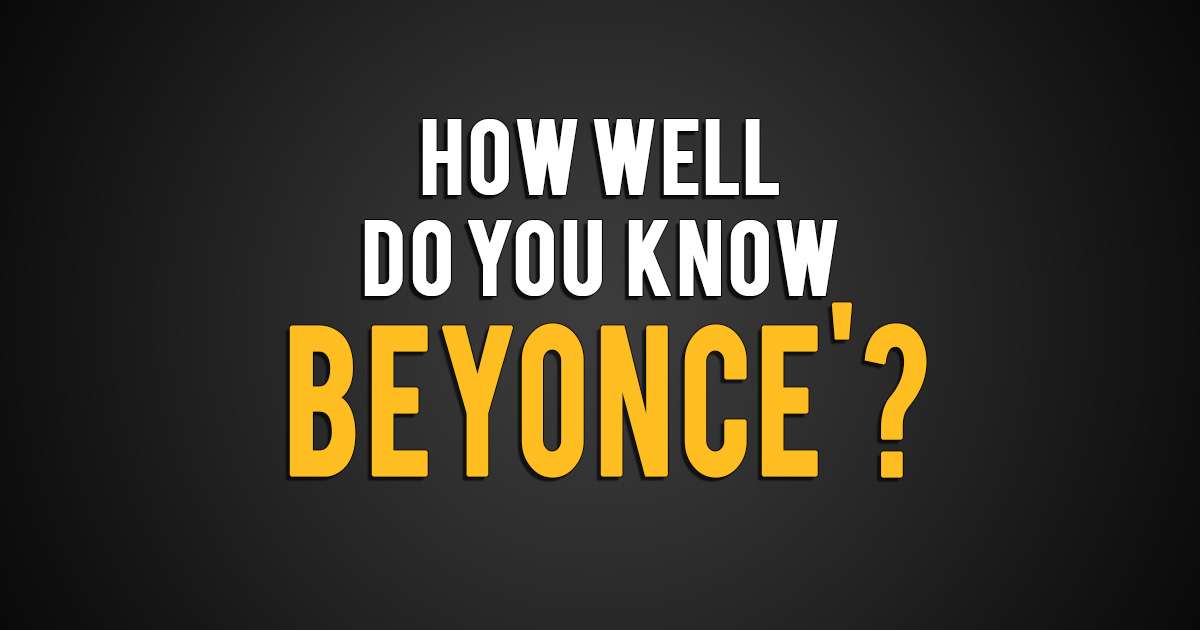 Undoubtedly one of the greatest entertainers of our time, Beyonce Knowles is a hip hop/R&B phenomenon and one of the most recognizable artists out there. Her fans know all about her journey to stardom from the early days of Destiny's Child to her critically acclaimed solo career. Even her personal life has been a subject of huge interest; her marriage to hip hop mogul Jay Z was a seismic event in the music industry and most people consider them to be the most powerful couple in American music.

Event Name & Location
Date
Tickets

Renaiddance - Beyonce Celebration, Crystal Ballroom at Somerville Theatre

, tickets for 12/21 20:00:00.000 at

Crystal Ballroom at Somerville Theatre

,

Somerville

,

MA

Thu Dec 21 2023

Renaiddance - Beyonce Celebration, The Ritz - San Jose

, tickets for 12/23 21:00:00.000 at

The Ritz - San Jose

,

San Jose

,

CA

Sat Dec 23 2023

Big Wig Beyonce Brunch: The Ultimate Drag Experience, Punch Line Comedy Club - Philadelphia

, tickets for 01/27 12:00:00.000 at

Punch Line Comedy Club - Philadelphia

,

Philadelphia

,

PA

Sat Jan 27 2024
Despite her status as a global star, there are still a lot of things most of you probably do not know about Queen B. However, we are here to change that right away. Here are ten of the most interesting facts that you probably did not know about the iconic star.
1. Discovered at the Age of Seven
Beyonce was discovered as a talented singer in a dance class, after she finished a song her teacher was singing by hitting the high notes. Beyonce also won a singing competition in school by covering John Lennon's hit, "Imagine." She was introduced to her future Destiny Child group members shortly after that and her career began in earnest.
2. One of the Best Selling Music Artists of All Time
Beyonce announced herself to the world as a member of Destiny's Child and sold around sixty million albums worldwide with the group. She became one of the biggest stars on the planet after pursuing her solo career and has sold more than a hundred million albums as a solo artist. This makes her one of the best selling music artists of all time.
3. Nominated for a Record 52 Grammy Awards
Beyonce's work has also been critically acclaimed. The R&B star has won an astonishing twenty Grammy Awards and has been nominated for a record fifty two times. She also holds the record for winning the most awards by an artist in one night; she won six awards in 2010 for her third album, I Am… Sasha Fierce.
4. Secret Five Year Old Sister
In 2011, Beyonce became the center of tabloid attention once again, after it emerged that she had fired her father, Matthew Knowles, as her manager. Eventually the reasons for this decision came to light and it turned out that Matthew Knowles had fathered a love child with a woman twenty years his junior, while being married to Beyonce's mother. This infidelity took place in 2010 and the child, whose name is Koi Knowles, is six years old now.
5. Had Only One Proper Relationship before Meeting Jay Z
Prior to her relationship and subsequent marriage to Jay Z, Beyonce was dating a man called Lyndall Locke. Locke has revealed details about his brief relationship with her and said they were childhood sweethearts who met in 1993. He also claims that Beyonce was not in a relationship with anyone else between him and Jay Z.
6. Has Suffered From Depression
Beyonce claims that when Destiny Child broke up after LeToya Luckett and LaTivia Roberson quit, she suffered from depression. Beyonce and her father were publicly blamed by critics, online blogs and the media for the group's disbandment and it seems she took these allegations to heart. Beyonce has gone on record to say she locked herself in her room for days after the group broke up and refused to eat.
7. Had a Miscarriage
During an interview with Oprah, Beyonce discussed one of the saddest moments in her life. She suffered a miscarriage during the early stages of her pregnancy and lost her baby. She claims she was devastated by the news and went to the studio to write the saddest song she has ever written. However, luckily for her, she conceived again and welcomed a healthy baby girl in 2012.
8. Did Not Want to Attend Kim Kardashian and Kanye West's Wedding
It has been widely reported that Jay Z and Beyonce were close with "Kimye." The two couples were spotted sitting in the front row at the 2012 BET Awards. However, when Kim and Kanye married in 2014, Jay Z and Kanye did not attend. Insider sources have claimed that Beyonce did not want to attend the marriage because she did not want a Kardashian to socially climb up to an A list status by using her as a ladder.
9. Michelle Obama is One of her Biggest Fans
When the First Lady of the United States fan-girl's all over you, then you know you've made it big. By all accounts, Michelle Obama is a huge Beyonce fan and usually finds ways to incorporate Beyonce in her First Lady business. Michelle Obama has said that she admires and adores Beyonce and has been spotted dancing to Queen Bey's hit song "Move Your Body."
10. Wants to Win an Oscar
Beyonce, like millions of other entertainers, hopes to win the Academy Award one day. For her work in the critically acclaimed musical drama Dreamgirls, Beyonce was nominated for the Golden Globe for Best Actress, but missed out on an Academy Award nomination. She has since then stated in an interview to Oprah that she would love to win the prestigious award. Beyonce has also stated that she wanted to be the first black woman to win an Oscar, Tony and Grammy Award; however, Whoopi Goldberg has beaten her to that accomplishment.
Here are some of the more relatively unknown facts about one of the greatest performers and entertainers of our time. She has struggled through hardships and personal woes to come out stronger. She also has dreams and aspirations like most and here's hoping she goes on to achieve all of them.
Beyonce is still going as strong as ever and her recent album Lemonade was another critically acclaimed hit. The "Single Ladies" hit makes is currently on a worldwide tour (The Formation Tour) to promote her latest album and she shows no signs of slowing. Beyonce truly is the queen of the entertainment industry and long may she rule.