10 Takeaways from the Conor McGregor vs Floyd Mayweather Fight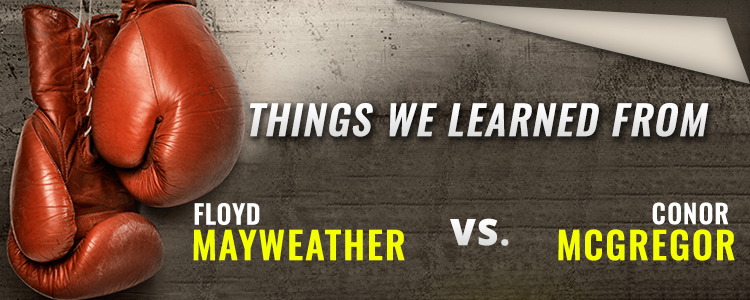 The boxing match that the world had been waiting for took place on August 26, 2017 at the T-Mobile Arena in Nevada. Floyd Mayweather one of the greatest boxers in history came out of retirement to take on Conor McGregor, the biggest MMA star on the planet in what was called "The Money Fight."
Mayweather won the bout in the tenth round via TKO to take his record to an incredible 50-0. McGregor however has nothing to be ashamed of. This was his first boxing match and he lasted ten rounds when a lot of people thought he would not make it past the first round. Mayweather announced right after the fight that this was his last fight and the time has now come for him to retire for good.
Plenty has been written about the slugfest and how it all panned out. It has generated quite a lot of discussion too. There were quite a few takeaways from the Conor McGregor vs Floyd Mayweather fight and here are the most important one of those:
McGregor is a fighter- Conor McGregor has the heart of a champion and he is a fighter. The Notorious One challenged one of the greatest boxers in history to a fight and surprised a lot of people. The most courageous thing that McGregor did was that he agreed to take on Mayweather in a boxing match when he himself is an MMA fighter. Not a lot of people we know would have the courage to do that. But McGregor did and lasted ten rounds to prove to the world that he is a champion.
Mayweather is a legend- Floyd Mayweather just cemented his status as one of the most iconic figures in all of sports. Mayweather is 40, he had retired in 2015 but he still came out and did what Mayweather does. He took everything that McGregor had to dish out and then boxed at his own pace. He adjusted multiple times during the bout and came out on top for the fiftieth straight match.
50-0- Mayweather went 50-0 by beating McGregor and that is a professional boxing record that will not be bettered anytime soon. The record is just astonishing and it will take a herculean effort by someone to even get close to this record.
McGregor pushed MMA into the spotlight- Conor McGregor not only took one an all time boxing great but in the process also took the sport of MMA to new heights. He showed the world that MMA is real and is here to stay. Some people have also gone as far as to say that MMA is now more than jut boxing's little brother.
MMA is McGregor's world- Conor McGregor might have done the unthinkable by lasting ten rounds with Floyd Mayweather but his real forte is Mixed Martial Arts and that is where he belongs. For the last year, everyone had been talking about this fight and it looked as though the UFC world was at a standstill. Simply because, its biggest star was busy somewhere else.
Now McGregor has announced that he will return to the UFC. Besides, boxing will also not guarantee him the kind of income he wants going forward. McGregor's two fights with Nat Diaz were the two biggest UFC fights in history. So imagine what would happen if the two warriors were to step inside the cage for the third installment?
Could Mayweather have finished it earlier?- Conor McGregor was in the ascendancy for the first three rounds but this is as good as it got for him. He ran out of steam after that and then Mayweather took over. He landed shot after shot and there was a time well before round 10 that the fight was about to be over. Mayweather however did not go for it and kept on punishing McGregor. Why he did not end it earlier than the tenth round is anybody's guess. Maybe there was a little ring rust. Or it might be that age had caught up to him. Whatever the reason, the bottom line is that he got the job done in the end.
Let's not go for a rematch- The whole build up and the fight itself was a lot of fun, that is for sure. Everybody goes home a winner so there should really be no talks of a rematch between the two. Mayweather has his 50-0 record to show to the world while McGregor has shown the world what he is capable of. The best thing for everyone would be to leave it at that. The fight was a global event- The Money Fight was expected to be record breaking and that it was. The interest in the slugfest all around the world was incredible and it transcended both boxing and MMA. The world was divided into two camps: Team McGregor and Team Floyd. Predictions were being made left right and center as to who will come out on top. If there ever was a global sporting event, then this was it.
McGregor might box again- Now that Conor McGregor has had a taste of what it feels to be inside the boxing ring, there is a chance he might give it another shot. That will not happen anytime soon though. But somewhere down the line if a chance comes up and the money is right, then we can definitely see McGregor boxing again.
Combat sports is alive and kicking-The incredible interest that this fight generated shows that there is still place for combat sports in the world. There was a feeling that people these days do not like to see fights like they used to but this fight has proved it wrong. There is a lot of interest in combat sports even now and while Mayweather might have retired, McGregor hasn't and every time he steps up for a fight, the hype generated will be off the charts.
So there you have it. These are our 10 Takeaways from the Conor McGregor vs Floyd Mayweather fight. From the two fighters' verbal sparring on social media, to the contract signing, the press conferences and the fight itself, everything was huge and took the hype surrounding the event to new heights.
It was a fight that will be remembered for a long time to come.